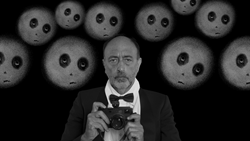 My purpose in taking photographs over the past forty years has ultimately been about defining myself. It has been fundamentally a psychological and existential journey. - Roger Ballen
Los Angeles, CA (PRWEB) April 10, 2017
Roger Ballen, one of the most important photographers of his generation, will be exhibiting a broad range of works at The Los Angeles Festival of Photography, taking place April 18-23 at The Reef in Downtown Los Angeles. Ballen's solo exhibition Ballenesque, will be both a retrospective of works from his close to half-century as a fine art photographer, and the North American debut of images from his most recent series "The Theatre of Apparitions."
Ballen will also conduct a three day Fine Art Photography Workshop at the Festival, Tuesday, April 18 – Thursday, April 20, 10am-5pm each day. On Saturday, April 22, Ballen will deliver a Keynote speech at 3pm. At 4:30pm, he will have a book signing of several of his titles, which will be available for purchase. At 7pm, Roger Ballen, Charlotte Cotton, and other prominent photographers and art patrons will gather for a special VIP reception.
Roger Ballen was born in New York City in 1950, and has lived and worked in South Africa for more than 30 years. He began in the documentary field, but his approach broadened to allow for a fictionalized visual dialogue between individuals, their architectural space, found objects, and domesticated animals. His distinctive style of photography has evolved using a simple square format in stark and minimal black and white, and conjures up a visual realm he's described as "Ballenesque." His strange and often extreme works confront the viewer, challenging them to come with him on a journey into their own minds as he explores the deeper recesses of his own.
The Theatre of Apparitions, Ballen's most recent series, is something of a departure from his existing oeuvre, featuring intricately layered images that occupy a space between painting, drawing and photography, and that also bridge a divide between image-making and theatrical performance. The work is inspired by hand-drawn carvings on blacked-out windows in an abandoned women's prison. He experiments using spray paints on glass, and then draws on or removes the paint with a sharp object to let natural light through. The results have been likened to prehistoric cave-paintings – the black, dimensionless spaces on the glass are canvases onto which Ballen has carved his thoughts and emotions. With the series title, he hopes to convey the theatrical mechanics in which mental forms of life – dreams, the imagination and memories – act out on stage for the psyche.
The Los Angeles Festival of Photography is a weeklong festival that aims to encourage and celebrate the photographic image and those who devote their work to creating and advancing the medium. Through lectures, workshops, exhibitions, gallery tours, and networking events, the international festival will gather leading figures in the industry to discuss the current and future state of photography.
The Los Angeles Festival of Photography is part of Spring Art Week Los Angeles, a concurrent intersection of three major art shows, also encompassing the Photo Independent Fair, now in its 4th year, and EXPO Contemporary. There will be an Opening Night Reception for all three events on Friday, April 21, from 7-10pm. "To have these major art shows intersect over the same week in Los Angeles is extremely exciting," said Chris Davies, Director of Fabrik Media. "With so many options, there will be a show for every type of art patron."
Links:

About Fabrik Media
The Fabrik Media platform is a multi-faceted enterprise presenting an insightful perspective on the international contemporary art scene from a Los Angeles point of view. Among our array of publications is Fabrik, the quarterly print magazine, as well as a select catalogue of distinctive limited edition art books. Fabrik Media also produces an array of high profile curated independent art fairs and festivals – cutting edge showcases for the visual arts. http://thisisfabrik.com/