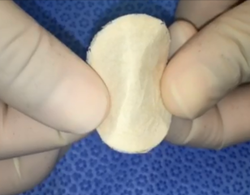 Exceltrix has progressed from an intriguing concept to a thoughtfully-designed and tested product that could serve a real need in the wound care market
San Diego, CA (PRWEB) April 10, 2017
Histogen, Inc., a regenerative medicine company developing innovative products from cells grown under simulated embryonic conditions, today announced that the Company has been awarded a $750,000 Phase II grant from the National Science Foundation (NSF) to further the development of a wound treatment with anti-infection, anti-inflammatory and pro-regenerative properties.
This treatment, termed Exceltrix, combines a proprietary human extracellular matrix (hECM) material from Histogen with a novel antimicrobial peptide from Worcester Polytechnic Institute (WPI) to simultaneously regenerate tissue and treat infection in chronic wounds. Following product development and proof of concept work completed in Phase I and Ib, the Phase II program will focus on upscaling and optimizing the manufacturing processes and demonstrating reproducibility, essential steps to show clinical readiness and commercial viability.
"Over the past two years, Exceltrix has progressed from an intriguing concept to a thoughtfully-designed and tested product that could serve a real need in the wound care market," said Dr. Gail Naughton, Histogen CEO and Chairman of the Board. "We are excited to have the continued support of the NSF to advance this work."
Under the Phase II Small Business Technology Transfer (STTR) grant, WPI serves as a subawardee and will be working alongside Histogen to meet the planned manufacturing and pre-clinical objectives.
"Partnering with the team at Histogen has accelerated the development of our antimicrobial peptide technology and helped bridge the gap from the lab bench to commercial translation," said Dr. Marsha Rolle, Associate Professor of Biomedical Engineering at WPI and co-principal investigator for the project. "We are grateful for the guidance and support from the NSF STTR program for making this possible."
There are approximately seven million chronic wound cases in the US each year. Due to the aging population, incidence of diabetes and increasing numbers of surgeries, this number is expected to grow at 8% per year, pushing the global advanced wound care market to reach $20.5B by 2020. Still, this market remains underserved. Currently available products either do not have regenerative properties, or have product characteristics, such as living cells, that make them difficult to handle and store. Further, half of the chronic wounds suffered each year become infected under the traditional therapeutic protocol. If successful, Exceltrix would be the first product to combat wound infections while attenuating inflammation and promoting tissue regeneration.
About Histogen
Histogen is a regenerative medicine company developing innovative products from cells grown under simulated embryonic conditions, including low oxygen and suspension. Through this unique technology process, newborn cells are directed to naturally produce vital proteins and growth factors from which the Company has developed its rich product portfolio. Histogen's technology focuses on stimulating a patient's own stem cells by delivering a proprietary complex of multipotent human proteins that have been shown to support stem cell growth and differentiation. For more information, please visit http://www.histogen.com.
About Worcester Polytechnic Institute (WPI)
Founded in 1865 in Worcester, Mass., WPI is one of the nation's first engineering and technology universities. Its 14 academic departments offer more than 50 undergraduate and graduate degree programs in science, engineering, technology, business, the social sciences, and the humanities and arts, leading to bachelor's, master's and doctoral degrees. WPI's talented faculty work with students on interdisciplinary research that seeks solutions to important and socially relevant problems in fields as diverse as the life sciences and bioengineering, energy, information security, materials processing, and robotics. Students also have the opportunity to make a difference to communities and organizations around the world through the university's innovative Global Projects Program. There are more than 40 WPI project centers throughout the Americas, Africa, Asia-Pacific, and Europe. Media Contact: Michael Cohen, 508-868-4778 mcohen(at)wpi(dot)edu.