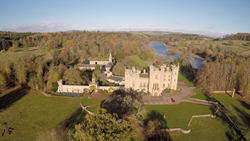 AUSTIN, Texas (PRWEB) April 07, 2017
To continue celebrating Disney's box office record-breaking live-action adaptation of "Beauty and the Beast," HomeAway is teaming up with Disney to announce an encore to its #HomeAwayCastle sweepstakes for another lucky group to enjoy a vacation at the historical Duns Castle in Scotland this summer.
The world leader in vacation rentals, with more than two million unique places to stay, is offering a second chance for one lucky traveler and up to 20 of his or her favorite guests to win a grand prize package including all travel arrangements and a five-night stay at the #HomeAwayCastle July 20-25, 2017. Travelers from the US and UK can enter the sweepstakes by visiting HomeAway.com/Disney until the competition closes on April 30, 2017.
"The enormous response to our #HomeAwayCastle sweepstakes tells us travelers are inspired by Disney's amazing new blockbuster film and are motivated to experience fairy tale vacations," said Steve Stamstad, vice president of global brand at HomeAway. "We are thrilled to continue to be inspired by the movie and extend another opportunity for a lucky winner and his or her favorite guests to experience one of our truly spectacular vacation rentals perfect for group trips."
Today, HomeAway also announces the grand prize winner from the more than 700,000 entries from six countries of its first #HomeAwayCastle sweepstakes, which ran from February 9 until March 31, 2017. Winner Ted from Topsfield, MA will travel with his wife, Mary, their three children, the grandparents and extended family members. According to Mary, the family regularly takes multigenerational trips together and has always dreamt of going to Scotland so they can learn more about their Scottish roots. She says this is beyond a dream come true for all of them.
"Since HomeAway's mission is to help families and groups of all sizes make the best memories together while on vacation, this once-in-a-lifetime castle stay seems to be a custom fit for our winning family of 21," said Stamstad. "We send our heartfelt congratulations out to Ted, Mary and their family members!"
For both sweepstakes, the winners and his or her guests will have the opportunity to dine in the castle's Gothic-style dining room, engage in traditional activities like archery and falconry on the property's lush grounds, or simply curl up with a book and a cup of tea in the drawing room or in reading nooks nested throughout the castle's 12 bedrooms. The entire Duns Castle and various cottages on its 1,200 acres are available for rent on http://www.homeway.com for less than $100 per person per night.
Additionally, five runner-up prize packages including roundtrip travel and a seven-night stay for up to five guests in a HomeAway property of each winner's choice will be awarded as part of this sweepstakes.
"We're seeing what we call the 'Beauty and the Beast' effect: there's been a 500 percent spike in castle searches on HomeAway since the movie's first trailer came out," said Stamstad. "Not only are castles magical and memorable destinations for loved ones to 'get HomeAway from it all,' they also fit a wide range of budgets and are easily more affordable than hotels."
From rustic to luxurious, HomeAway.com features more than 900 castles around the world that can accommodate from two to 120 guests. A sampling can be found at: http://bit.ly/CastleCollection.
More information, including visual assets, can be found at HomeAway's media center or by emailing media(at)homeaway(dot)com.
About HomeAway:
HomeAway, based in Austin, Texas, is the world leader in holiday rentals with sites representing more than two million unique places to stay in 190 countries, and is a part of the Expedia family of brands. For more information about HomeAway, please visit http://www.homeaway.com.
About the film:
The story and characters audiences know and love come to spectacular life in the live-action adaptation of Disney's animated classic "Beauty and the Beast," a stunning, cinematic event celebrating one of the most beloved tales ever told. "Beauty and the Beast" is the fantastic journey of Belle, a bright, beautiful and independent young woman who is taken prisoner by a Beast in his castle. Despite her fears, she befriends the castle's enchanted staff and learns to look beyond the Beast's hideous exterior and realize the kind heart of the true Prince within. The film stars: Emma Watson as Belle; Dan Stevens as the Beast; Luke Evans as Gaston, the handsome, but shallow villager who woos Belle; Kevin Kline as Maurice, Belle's father; Josh Gad as LeFou, Gaston's long-suffering aide-de-camp; Ewan McGregor as Lumière, the candelabra; Stanley Tucci as Maestro Cadenza, the harpsichord; Audra McDonald as Madame de Garderobe, the wardrobe; Gugu Mbatha-Raw as Plumette, the feather duster; Hattie Morahan as the enchantress; and Nathan Mack as Chip, the teacup; with Ian McKellen as Cogsworth, the mantel clock; and Emma Thompson as the teapot, Mrs. Potts.
Directed by Bill Condon based on the 1991 animated film "Beauty and the Beast," the screenplay is written by Stephen Chbosky and Evan Spiliotopoulos and produced by Mandeville Films' David Hoberman, p.g.a. and Todd Lieberman, p.g.a. with Jeffrey Silver, Thomas Schumacher and Don Hahn serving as executive producers.
"Beauty and the Beast" was released in U.S. theaters on March 17, 2017.
About the #HomeAwayCastle giveaway:
No purchase necessary. The sweepstakes opens April 6, 2017, at 5:59 a.m. CST and closes April 30, 2017 at 4:59 p.m. CST. The sweepstakes is open to residents of the U.K. and U.S., ages 18 and up. One entry per person. Void where prohibited. See sweepstakes rules: https://www.homeaway.com/info/disney-terms. Any interested entrants from the previous sweepstakes must enter again.