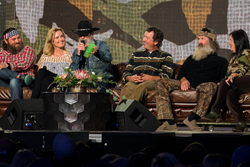 Lynchburg, Va. (PRWEB) April 07, 2017
Several members of the Robertson family, stars of A&E's hit television reality show "Duck Dynasty," held a family reunion of sorts during Liberty University Convocation on Friday.
President Jerry Falwell, a family friend of the Robertsons, welcomed the camo-clad Louisiana family to the stage, noting that their show has "broken several (viewership) records" to become "the most watched nonfiction cable series in history."
"The Robertson family is close to my heart because they are politically incorrect, like me," Falwell said to cheers from the crowd, which included about 3,500 guests for College For A Weekend (CFAW), where prospective students get a taste of campus life. "They (the Robertsons) are coming here to celebrate the end of an incredibly successful series, and we are just honored they chose to do so at Liberty University."
The show aired its final episode on March 29.
But when Phil, Miss Kay, Uncle Si, Al, Willie, Korie, John Luke, and Mary Kate filed onto Liberty's stage, it was like an extra episode of the show began taking place.
Phil, the bearded family patriarch, and Al, his only clean-shaven son, traded barbs about facial hair:
"It's not hard to look good in this family," Al joked.
"God made male and female," Phil retorted. "When I am looking at males, hair comes out of their faces. … Females, they don't have beards. Males, they have beards. God doesn't make mistakes. This is what a man is supposed to look like."
"It also grows out of your ears and nose but we don't want to see that," Al responded.
Willie also gave his father a hard time, recalling how much resistance Phil gave him when he proposed the family company, Duck Commander, start a website.
"I had a few other ideas I thought would be great … like going from VHS tapes to DVDs. He thought that was a bad idea," Willie joked. "When I came to him with this television show idea, he literally thought I had lost my mind — that was the worst idea of all time. So here we are sitting today."
"I'm 70 now; I have never owned a cell phone or a computer," Phil bragged. "So if you are going to bad mouth me after I leave over the Internet or Facebook and all that stuff, trust me, I'm not hearing you."
And of course, to the crowd's delight, there was plenty of Uncle Si being Uncle Si.
His brother, Phil, said Si always acts like a fool and was surprised someone would pay to him to do it.
Si laughed, "God is alive and well, I am living proof of it. He made what you see here a TV star — that would take divine intervention, Jack."
Clips from the show played on the videoboard, including a sizzle reel of Uncle Si's zany antics, Miss Kay trying to open a restaurant despite her family's backwoods mannerisms offending customers, and John Luke's trip to the dentist.
They also showed clips from John Luke and Mary Kate's wedding. The young couple are now sophomores at Liberty. Mary Kate said that being a part of the family is "a new adventure every day," prompting the family to share some embarrassing stories of John Luke's absentmindedness.
A theme throughout the Convocation was the importance of welcoming God into your life and trusting His plan.
Phil said that unlike other reality shows, "Duck Dynasty" "shows a functional family," one that was unashamed to show its Christian faith and stay true to its values.
"Through that television show (and) praying to God, (even) thanking Him for your food, for crying out loud," he said, "thousands upon thousands were brought to Jesus because of that show."
He challenged the students to follow the biblical charge to offer your body as a living sacrifice to God, "your personal act of worship."
"This is not a story of success," Korie added. "It is a story of faithfulness. … When you look at a show like ours, you see our family (and might think), 'They have it all together.' … You don't see the years leading up to it. (When all we could do was) just say, 'God, we are going to stick with it, we are going to wait on you to provide, we are going to trust that you will be there for us, and we are going to continue to do the right thing even when it doesn't feel like everything is working out for us.' That faithfulness over the years is really the story that I hope people see."
Freshman Delaney Bresnahan and her family are huge fans of the show. She waited outside for two hours before Convocation with her mother, who came to visit with a lighted sign that read "I (heart) Si."
"It was amazing to be this close to them," Bresnahan said. "Getting to hear the story of how 'Duck Dynasty' has really developed over the years and the influence of faith on them was really cool."
This was not the first time members of the Robertson family have taken the stage at Liberty. Willie Robertson, John Luke's father, addressed students at Commencement last year, as well as at Convocation in 2013. In 2015, Korie and Sadie Robertson encouraged students to live authentically when they were guests at Convocation.
About Liberty University
Liberty University, founded in 1971, is the largest private, nonprofit university in the nation, the largest university in Virginia, and the largest Christian university in the world. Located near the Blue Ridge Mountains on more than 7,000 acres in Lynchburg, Va., Liberty offers more than 500 unique programs of study from the certificate to the doctoral level. More than 250 programs are offered online. Liberty's mission is to train Champions for Christ with the values, knowledge, and skills essential for impacting tomorrow's world.