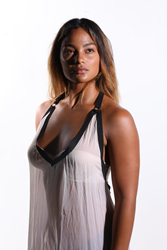 Honolulu, Hawaii (PRWEB) April 10, 2017
Beginning April 10, Hawai'i artist and co-lead director of international street art celebration POW! WOW! Kamea Hadar will bring his artistic vision to the exterior of an O'ahu affordable housing building. Inspired by the non-instrument Polynesian voyaging canoe Hōkūle'a's worldwide voyage and the Pacific Development Group's commitment to sustainability, Hadar will paint a 14-story mural of Hawai'i model Mahina Garcia as the Hawaiian moon goddess Hina.
WHO:
Kamea Hadar is a Hawai'i-based artist who studied art in Paris, Madrid, and Tel Aviv. He is co-lead director of POW! WOW!, an annual week-long street art event founded in 2010, which brings together over a hundred local and international artists to create murals and other forms of art. Centered in the O'ahu neighborhood of Kaka'ako, POW! WOW! has expanded to include Taiwan, Israel, New Zealand, Japan, and other international cities.
WHAT:
During the month of April, Kamea Hadar will paint his largest mural to date, a representation of the Hawaiian moon goddess, Hina, on the side of an O'ahu affordable housing development. The 165-foot tall depiction of Hina will be the state's largest portrait mural and is inspired by Hōkūle'a and Mālama Honua, the Hawaiian voyaging canoe's three-and-a-half year around-the-world voyage.
WHY:
The 14-story affordable housing unit that looks out onto Pearl Harbor was recently refurbished by Pacific Development Group with LEED Gold Certification. Hina was said to guide Polynesian voyagers with the moon and stars and has physical forms on sea and on land. She connects with Hōkūleʻa not only for her role in voyaging, but also with Mālama Honua's and Pacific Development Group's message of, "caring for our Island Earth."
WHERE:
Halawa View Apartments
O'ahu, Hawai'i
WHEN:
Painting to take place from April 10th-May 10th
INTERVIEW OPPORTUNITIES:
Kamea Hadar: Artist and co-lead director of POW! WOW!
Mahina Garcia: Moon goddess model
For more information about the mural and sponsors, please click the link here.