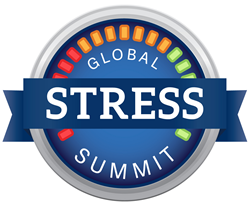 We need to clearly define stress so we can help people shift it successfully
Free global event, online (PRWEB) April 11, 2017
Caught in the grasp of our current stress epidemic, too many people are taking a serious hit to their health, happiness, and performance. The American Institute of Stress is hosting this Global Stress Summit (April 24 - May 1) to offer expert guidance on building resilience and transforming burnout. Daily summit themes include the history and biology of stress, brain and mindset, body and lifestyle, workplace stress, relationships and spirituality, and practical tools to tame stress (humor, neurofeedback, storytelling, music, sound therapy, heart rate variability, meditation and breathing exercises).
Our Serious Stress Problem
~Unmanaged stress correlated with 75 - 90% of all medical visits.
~Chronic stress increases the rate of cognitive decline, and speeds up the development of dementia and Alzheimer's disease.
~The economic burden of stress on US business estimated at $600 billion annually, and rising.
Unfortunately, the way we use the word stress as a catch-all for everything that's bad in life just makes matters worse, leaving people feeling helpless and out of control. It's time to change the conversation. The American Institute of Stress (AIS) is leading the charge to help individuals and organizations change their relationship with stress:

understand how stress can be a stimulus for growth and positive change
learn to balance demands with your capacity, avoiding the potential damage from unchecked stress
recognize and experience practical daily tools that will build a resilient mindset
The American Institute of Stress (AIS) is dedicated to teaching how to perform optimally in the midst of challenging circumstances.
The 2017 Global Stress Summit will be held online April 24 - May 1 (register at http://www.stress.org/events). Our 35 subject-matter experts will break down assumptions about stress and offer a new, healthier framework for turning stress from a frenemy into a friend. A certain amount of stress is needed to adapt to the challenges that show up. Without the right balance of stimulation, purpose, or drive our system weakens over time; too much pressure and the stress response leads to break down and burn out. The 2017 Global Stress Summit, moderated by AIS executive director, Dr. Heidi Hanna - author of the book Stressaholic (Wiley, 2014) - takes you from the history and biology of stress through the latest research and common sense practices that will transform stress for good.
Day 1: History and biology of stress with pioneers from the field including American Institute of Stress founding member Dr. Herbert Benson of Harvard Medical School, Dr. Robert Sapolsky of Stanford, and epigenetics researcher Dr. Bruce McEwen of Rockefeller University.
Day 2: Understand the impact of stress on the brain, and how to build a resilient mindset with leading neuroscientists and thought leaders who discuss their own rituals for stress management.
Day 3: Discuss the influence of lifestyle on our stress response, as we hear from top nutritionists, personal trainers, and The Sleep Doc.
Day 4: Hear from extraordinary business leaders as they teach practical tools to tame stress at work, and strategies for building a more mindful and resilient company culture.
Day 5: Explore a variety of relationships and the way they contribute to our relationship with stress, including helping kids manage stress, building positive relationships at home, and how spiritual practices change the brain for the better.
Day 6: Learn about specific conditions that are affected by stress, including ADD, Depression, PTSD and combat stress.
Day 7: Wrap up the summit with more practical tools to tame stress such as humor, neurofeedback, sound and music therapy, heart rate variability training, breathing, meditation and more.
Register for the online summit at http://www.stress.org/events. Our fellows and stress experts are available for media interviews, and may be contacted via the American Institute of Stress executive director and summit host Heidi Hanna at heidi@stress.org. A full agenda is available on images attached to this release. Educators may request a suggested viewing schedule for college or continuing education courses. On-demand licensed access will be available after the free summit concludes, and may be used for corporate or community programming upon request.
AIS Mission
The American Institute of Stress is a non-profit organization established in 1978 at the request of Hans Selye to serve as a clearinghouse for information on all stress related subjects. Other founding members included Linus Pauling, Alvin Toffler, Bob Hope, Michael DeBakey, Herbert Benson, Ray Rosenman and other prominent physicians, health professionals and lay individuals interested in exploring the multitudinous and varied effects of stress on our health and quality of life. For more information, visit http://www.stress.org.