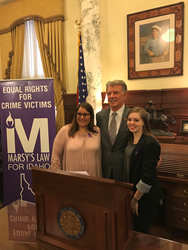 Our Idaho victims deserve to not only have their voice welcomed, respected and heard, but to be a priority in every step of our criminal justice system." -Senator Cherie Buckner-Webb
BOISE (PRWEB) April 10, 2017
Marsy's Law for Idaho, the local chapter of the national advocacy group dedicated to strengthening crime victims' rights, joined with victims' rights advocates and organizations across the state in honor of National Crime Victims' Rights Week (NCVRW), April 2-8, 2017.
Idaho Governor Butch Otter along with Mayors of Boise, Caldwell, Coeur d'Alene, Idaho Falls, Meridian, Twin Falls, Sandpoint and Pocatello made proclamations to honor crime victims and bring awareness to organizations that provide services to victims and their families, as well as those working to ensure crime victims' rights are codified in Idaho constitutional law.
"We thank Governor Otter for his proclamation and recognition of the efforts of organizations like Marsy's Law that work to support crime victims and ensure their rights are equal to those of the accused or convicted," said Jason Arrington, Marsy's Law for Idaho state director.
"In my over 22 years of work in Ada County, I have seen firsthand the devastating impact crime has on the victims and their families who are left in the wake," said Ada County Prosecutor Jan Bennetts. "I have also seen the courage and empowerment that can transform the devastation crime victims endure into resilience and healing when victims are given a voice and when they are heard."
This past legislative session, Marsy's Law for Idaho worked with victims' advocates, prosecutors, sheriffs and attorneys to develop a proposed constitutional amendment (SJR 103) to ensure victims and their families are afforded equal constitutional rights. Senator Todd Lakey (R-Nampa) and Representative Luke Malek (R-Coeur d'Alene) co-sponsored SJR 103.
"The Idaho Senate unanimously passed our constitutional amendment, fully recognizing that more work needs to be done to protect Idaho's crime victims," added Senator Todd Lakey. "While I'm disappointed by the House State Affairs Committee decision to not move SJR103 forward, we are committed to continuing to work to make sure Idaho crime victims have a constitutionally protected voice in the criminal justice process. We and Marsy's Law look forward to working with legislators and stakeholders over the next year to make sure we place a Crime Victims Bill of Rights before Idaho voters in 2018."
"The testimony of crime victims and victims' rights advocates in support of this amendment closely reflected my personal experience as a prosecutor in the criminal justice system. Victims are too often ignored and their rights are considered far less important than that of the criminals who have done them harm. Idaho families would all benefit from enhanced or strengthened victims' rights during the justice process," said Representative Luke Malek. "The process this session reaffirmed that we need to work to ensure that victims of crime have equal rights with the accused, and that those rights are protected in the Idaho Constitution."
Senator Cherie Buckner-Webb (D-Boise) added, "The power of having a voice cannot be denied. Our Idaho victims deserve to not only have their voice welcomed, respected and heard, but to be a priority in every step of our criminal justice system — a system they did not choose to enter."
The proposed constitutional amendment will require a two thirds majority support by the legislature and then Idaho voters must also support the amendment with a simple majority at the polls in 2018. If approved, the amendment would enshrine strengthened rights for victims of crime in Idaho's constitution.
For more information on existing victims' rights in Idaho and the efforts of Marsy's Law to strengthen those rights, visit https://marsyslaw.us/marsys-law-state-efforts/idaho/
ABOUT MARSY'S LAW FOR IDAHO
Marsy's Law for Idaho is the Idaho chapter of national advocacy group Marsy's Law for All, which is dedicated to strengthening victims' rights. The goal of Marsy's Law for Idaho is to ensure the right of victims to have an effective voice in the criminal justice process. Victims are the individuals most harmed by crime and are sometimes an afterthought in our system— even through rights currently afforded through Idaho's constitution and statute. A proposed constitutional amendment for victims' rights would not place any significant burden on state employees or those providing victim service support using state funds. Idaho once led the nation on victims' rights. It was one of the first states to provide rights for crime victims. In November 1994, a state Constitutional Amendment on Victims' Rights overwhelmingly passed with 79% of the vote. Over twenty years have passed, and more work needs to be done. In 2016, the Idaho Attorney General argued before the Idaho Supreme Court that neither the Idaho Constitution nor Idaho Statutes provided a mechanism to enforce victims' rights (Mitchell V. State 160 Idaho 81 (2016)). It's time for victims' rights to be increased and strengthened in the Idaho Constitution, so Idaho can lead the nation once again.
# # #