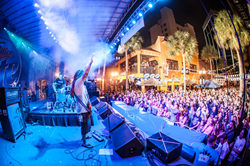 We are extremely excited to have Orlando natives SALES, an indie band who's gone on to achieve huge national success, kicking off the festival this year. -Sean Perry
ORLANDO, FL (PRWEB) April 10, 2017
The 17th annual Florida Music Festival & Conference announces the return of Vans Warped Tour founder Kevin Lyman and a focus on local indie roots with free admission to all Showcases. In it's efforts to once again feature emerging independent artists with ties to Florida, the festival has made a bold move to spotlight Florida acts in particular and encourage festival goers to seek out new music on it's 10 stages across 4 blocks of downtown Orlando. All participating showcase venues are free admission courtesy of the Downtown Development Board and Miller Lite.
The festival will kick off on Thursday, April 20th, and runs through Saturday, April 22nd.
The festival will cover 150 bands on 10 stages from virtually every genre of music, from Pop to Americana and Country. Indie buzz band SALES will make their much anticipated return to their hometown on Thursday, hitting the stage at The Social. The band, originally from Orlando, have been streamed over 20 million times on Spotify are set to play the much anticipated Sasquatch Music Festival in May alongside Twenty One Pilots, Frank Ocean, Chance the Rapper and more.
The conference panels have featured over a decade of notable music industry professionals, and this year is no exception as Kevin Lyman will return as the keynote speaker. The music conference has expanded to include one full day of panels and discussions on site at the UCF Rosen College Campus on Friday April 21, with Lyman and other notables Dan Larson of Okeechobee Festival and David Beame of Global Citizen Festival, as well as it's annual Saturday conference panels which will take place at Cheyenne Saloon.
For more information on the Florida Music Festival & Conference please visit http://www.floridamusicfestival.com.