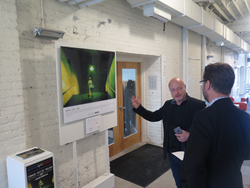 ..."Immerse yourself in a interactive visual and sound experience"...says Thomas Smith, Vice President of Binns of Williamsburg
Williamsburg, Virginia (PRWEB) April 11, 2017
"Binns is excited to be chosen to host these wonderful, artistic, and invigorating stills created by Film Director Gerard Krawczyk," says Thomas E. Smith, Jr., Vice President, Binns of Williamsburg.
The exhibit is called 1 Image Out of 140,000.
Nine large, one meter by 90 centimeter photos have been professionally printed and mounted. They will be on display throughout the store and in the Gallery at Binns of Williamsburg.
"Come prepared to immerse yourself in a interactive visual and sound experience. Unlock and access the creative and sensual sides of your brain," says Thomas Smith.
Film director Gerard Krawczyk took the photos.
"One should capture life in the moment, before it passes you by," and "The best camera is the one that you take with you," are two of the beliefs Gerard chooses to live by. Whether or not a person is an experienced writer, anyone is welcome to participate. Gerard says that "moments are imprinted as stills in your mind that can be shared." "I believe that humans share their personal stories everyday and that everyday stories are written in our brains. Some, people want to hold onto forever, some simply fade away, and some people wish they could re-write, reverse and retake," says Gerard.
"This exhibit gives everyone the chance to let their creative juices flow while garnering the attention of a world renowned director and other industry professionals," says Smith.
"When a script writer writes a script for the cinema, they have to give some direction on emotion," says Gerard.
Each photo is accompanied by a short caption. Gerard wrote captions in French and they have been translated to English.
It is intended for the viewer to decide whether something was lost in the translation, or not. "These photos will challenge your mind to recognize the banal from the staged. Some photos present, ugly, raw realities, in beautifully presented photos. Some photos present beautiful subjects amidst harsh surfaces," says Gerard.
"Sometimes the emotions conjured up of love and passion carry us through the most challenging of situations. Scripts may take us places we long to go and pull us deeply in to places we feverishly resist treading," says Smith.
"The writing of a movie script gives the author important control over their audience," says Gerard. "Writers choose what to give the audience to see. It's their script, their interpretation."
"Words of writers often give direction to the directors. A dialogue behind the camera, directs the dialogue in front of the camera. It's a multi-dimensional phenomenon," says Gerard.
Gerard considers the the pictures taken with his cell phone, "more urban; They are more natural," says Gerard.
Gerard did not allow these photos to be professionally enhanced.
"He wanted them raw. Raw in digital format, raw with spontaneity, and raw, as in lacking in human manipulation," says Smith.
Composors Armand Amar, Maîdi Roth and Pierre Oberkampf each wrote three scores to accompany the photography. Working with the SACEM* Society in France, Gerard has had these composers create an original orchestration to accompany each of these photos.
The Contest:
Gerard is seeking anyone interested in creative script writing, poetry, and literature to visit the exhibit and submit a one page script to accompany the still of their choice. Finalists' scripts will be chosen out of submitted scripts by professionals in the film industry.
The event is an extension of the world's largest French Film Festival held each year in Richmond, Virginia. This year marked the 25th anniversary of the festival. Academy Award winning directors, cinematographers, composers and other industry leaders attended each year. This year, over 60 international artist flew in from all over the world to attend the festival and symposiums. Most film festivals around the world give out awards for creativity, fostering a competitive environment. This festival does not. The festival creators, Dr. Peter S. Kirkpatrick and Dr. Françoise Ravaux-Kirkpatrick want to foster creativity and collaboration among the participants, not competition. That is what this exhibit has been designed to do too, foster your own personal creativity. This exhibit runs from April 11- 25th, 2017. Binns brings interesting art and cultural events to Virginia. Thomas E. Smith, Jr., Vice President, travels around the world in order to learn about arts and cultures so that he may return to Williamsburg and create interesting experiences and events for the residents of Williamsburg to enjoy.
"Dialogue is a good thing in this day and time. Come in and make it up," says Smith.
Gerard Krawczyk is the recipient of Ordre des Arts et des Lettres (Order of Arts and Letters) in France.
*Société des Auteurs, Compositeurs et Editeurs de Musique.
More information may be obtained on the Facebook Page:
Page Expo Gerard Krawczyk