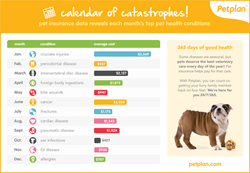 Newtown Square, PA (PRWEB) April 11, 2017
Pet parents often wonder if the time of year plays into their pet's health problems. According to Petplan, it might. The pet insurance provider pawed through 2016 claims data to find which conditions cost pet parents the most per month.
After discovering what sends pets to the vet every month, Petplan found that the timing of some conditions weren't surprising. Others had everyone scratching their heads:
Month: Condition (Average Cost to Treat)
January: cruciate injuries ($3,569)
February: periodontal disease ($907)
March: intervertebral disc disease ($2,127)
April: foreign body ingestion ($1,872)
May: bite wounds ($947)
June: cancer ($3,058)
July: fractures ($1,175)
August: cardiac disease ($1,343)
September: pancreatic disease ($1,524)
October: ear infections ($407)
November: GI disease ($938)
December: allergies ($787)
"While we might expect GI disease during Thanksgiving month, we don't necessarily know why intervertebral disc disease occurred most frequently in March, and didn't expect that December would be a big month for allergies," says Elyse Donnarumma, Petplan's Veterinary Manager. "It's a good reminder of how unpredictable pet health can be and the importance of being ready for anything."
Petplan found that treatments for periodontal disease peaked in February, perhaps due to an increase in screenings thanks to the success of National Pet Dental Health Month awareness campaigns. The data also revealed that vet offices saw a surge of bite wound cases in May, possibly because of temperate weather drawing more pets and their people to dog parks.
"It's always fun to dive into pet insurance data to see different trends in pet health," says Petplan co-founder and co-CEO Natasha Ashton. "Our 'Calendar of Catastrophes' only tracked patterns across one year, but it still raises some interesting questions. Are ear infections in October the byproduct of seasonal allergies? Do April showers contribute to foreign body ingestions because cooped up pets can become destructive? While we may not know for sure why certain pet health problems happen when they do, these correlations help inform the advice we give to pet parents to help them take better care of their pets."
For info about Petplan and more fetching pet facts, point your paws to http://www.gopetplan.com.
###
ABOUT PETPLAN
Petplan has built the industry's leading pet insurance for pet parents who demand a higher pedigree of care for their best friends. We've leveraged 40 years of global experience to create completely customizable coverage pet parents can feel confident in, and world-class claims service that's second to none — 24 hours a day, every day.
Petplan's innovative approach to pet insurance has been recognized by Forbes, Financial Times, Bloomberg, Inc. magazine, Smart CEO, the Communicator Awards, Ernst & Young and many others.
Petplan policies are underwritten in the U.S. by XL Specialty Insurance Company, and in Canada by XL Specialty Insurance Company – Canadian Branch. The company is rated A+ by S&P. Coverage may not be available in all jurisdictions. For more information about Petplan pet insurance, visit http://www.gopetplan.com or call 1-866-467-3875.