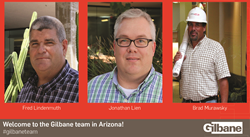 We are very pleased to welcome these new hires and transfers to the Arizona team, our volume of work is increasing and adding these experienced veterans will ensure we meet client expectations. John Clays, Arizona Team Leader
Phoenix, Arizona (PRWEB) April 11, 2017
Gilbane Building Company is proud to welcome Fred Lindenmuth, Jonathan Lien, and Brad Murawsky to its Phoenix, Arizona team. Fred Lindenmuth has joined in the role of Project Executive. He brings more than 25 years of experience to the team with a strong background in the healthcare sector. He is a graduate from the University of Illinois at Chicago with a Bachelor of Science in Mechanical Engineering.
Jonathan Lien has joined the team as Senior Project Manager. He brings more than 17 years of experience ranging from estimating to project management, and has worked in various international locations. Jonathan has extensive experience in the education, military, government, commercial, and civic market sectors.
Brad Murawsky has joined the team as General Superintendent. He is a transfer from our Gilbane Midwest operations. Brad brings more than 30 years of experience to the team and has extensive experience in the educational, residential, commercial and civic project sectors.
"We are very pleased to welcome these new hires and transfers to the Arizona team," says John Clays, Arizona Team Leader, "our volume of work is increasing and adding these experienced veterans will ensure we meet client expectations."
About Gilbane Building Company
Gilbane Building Company provides a full slate of construction and facilities-related services—from preconstruction planning and integrated consulting capabilities, to comprehensive construction management, close-out and facility management services—for clients across various markets. Founded in 1873 and still a privately held, family-owned company, Gilbane has more than 50 office locations around the world.
For more information, visit http://www.gilbaneco.com.