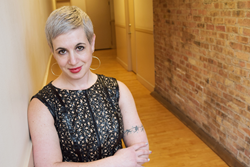 Legalpeople/The Partners Group is the right home for my team and my clients.
(PRWEB) April 10, 2017
LegalPartners, LLC, the holding company for leading legal placement and staffing brands Legalpeople, The Partners Group and Engage, announced today its acquisition of Chicago's Plante Moran Staffing ("PM").
PM's document review business and employees (including Group Head Jill Rorem) will join the company's Legalpeople operating unit. Its direct hire and substantive contract attorney business and employees will join The Partners Group headquartered in Atlanta, GA.
The transaction immediately bolsters the company's size and capabilities in Chicago, adding ten employees and expanding an already robust document review capacity to over 400 seats. The direct hire team, which includes former practicing attorneys from Skadden and Kirkland & Ellis, is the company first expansion of its permanent placement line of business into the Midwest. The addition also bolsters the company's foreign language staffing and project management expertise.
The newly acquired team has a national client base that Rorem believes will benefit from the larger geographic and practice-area platform. "With success came rapid growth, and it became too much for a single-office entity to handle. We are excited to show our clients that we can now support them nationally in the document review arena in addition to other areas of legal workforce need, including substantive-expertise contract staffing and direct hire placement," said Rorem.
LegalPartners maintains Legalpeople and The Partners Group offices in Chicago, Atlanta, Dallas, Houston, San Francisco, Los Angeles, New York, and Charlotte; and, Document Review Centers in Chicago, Los Angeles, Dallas and Atlanta.
The acquisition brings the organization to fifty internal employees, more than half of them lawyers, in addition to approximately 700 contract attorney employees working on projects. The company is run by a two-person management team of Jim Kosciolek and David Gruskin, both attorneys.
"We have found an amazing cultural fit," said Kosciolek. "Our newest team shares our commitment to providing top legal talent with a focus on servicing clients rather than selling them. We will continue to provide the highest quality in legal placement and staffing in the industry, while maintaining competitive pricing across all of our service lines."
About LegalPartners
LegalPartners is a holding company formed upon the merger of Legalpeople and The Partners Group in January, 2012. Its purpose is to establish a collective of the best-in-industry brands across the entire spectrum of legal workforce need.
About Legalpeople
Legalpeople is a legal staffing firm that provides contract attorneys and paralegals to law firms and corporate law departments. Legalpeople is entering its sixteenth year of operation. For more see http://www.legalpeoplegroup.com.
About The Partners Group
Formed in 1999, The Partners Group (http://www.partners-group.com) is an Atlanta-based company specializing in the permanent and contract placement of attorneys in law firms and corporations.
About Engage
Engage provides a better managed, cost-effective way to engage exceptional legal talent and a more dynamic way for attorneys to practice law. For more, see http://www.engageattorneys.com.