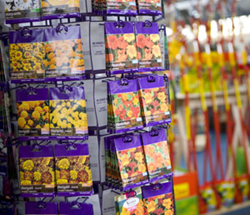 Labels for garden and yard use have to be durable as well as visually appealing.
Denver, CO (PRWEB) April 11, 2017
A Season for Gardening
When the weather warms up, it's time for amateur gardeners to get to work on tending their patches of earth. The month of April is set aside as National Lawn and Garden Month to celebrate this season of thawing ground and renewed activity outdoors. Companies that sell garden and lawn care products have a great chance to create a link between this event and their items - and to get customers enthusiastic about the months of gardening ahead. They can create this link with custom labels.
Many Label Options
While a simple mention of National Lawn and Garden Month may have an effect on shoppers when paired with the right imagery, companies don't have to stop with that one-sentence introduction. Instead, they can add functional details, such as facts and information about how to use the products correctly. This is the equivalent of a food producer including recipe suggestions on the back of an ingredient's package. With their imaginations activated by these usage ideas, customers will gain concrete reasons to buy those particular items right away.
Below are a couple of examples of information that can appear on seasonal garden product labels to increase their appeal:
Gardening tips: If producers include ideal usage hints on the sides of fertilizer and pesticide packages, they not only inspire amateur gardeners to try them out, they help ensure that projects turn out well. In these cases, there's a likelihood that customers will be pleased with the purchase and turn to the brand again. As long as manufacturers work with high-quality labels, they should have no trouble putting legible tips on their product labels.
Plant care instructions: Companies that sell seeds can include hints that will guide buyers as the plants grow. There's no need for customers to look up information online or in books when comprehensive instructions are printed on the packaging. As with the aforementioned gardening tips, plant care instructions are only useful if people can understand the text. High-quality labels are therefore essential.
The Right Labels for the Job
Of course, products that will be used and stored in sheds, garages or the great outdoors have to be wrapped in durable labels. Packaging that can withstand the elements is an essential part of branding in the gardening sector. If cold or warm temperatures weaken labels, or if they wash off in rain, customers might lose access to the valuable hints and tips printed on the sides. Lightning Labels offers a number of tough polymer materials made for the outdoors, along with laminate finishes that will keep custom labels looking good.
"Labels for garden and yard use have to be durable as well as visually appealing. Lightning Labels is a good choice for companies that want that combination of traits," said Lightning Labels Director of Business Development AnneMarie Campbell.
Lightning Labels customers may be poised to launch branding initiatives for National Lawn and Garden Month in ways that other companies are not. This is because Lightning Labels prides itself on its quick turnaround times, meaning companies will be able to seize the day while April is still going on. Achieving its lightning speed through a combination of domestic printing facilities and all-digital processes, Lightning Labels is ready to help lawn and garden care companies make the most of the spring season.
About Lightning Labels:
Lightning Labels uses state-of-the-art printing technology to provide affordable, full-color custom labels and custom stickers of all shapes and sizes. From small orders for individuals to the bulk needs of big businesses, Lightning Labels is equipped to handle and fulfill custom label and sticker projects of all types. Best of all, like the name implies, Lightning Labels provides a quick turnaround for every customer's labeling needs. Uses for Lightning Labels' custom product labels and custom stickers include food packaging and organic food labels, wine and beverage labels, bath and body labels, and nutraceutical products, such as vitamins, essentials oils, and herbal remedies, as well as event stickers, adhesive window stickers and more. Lightning Labels strongly supports the development of environmentally friendly printing materials and carries EarthFirst PLA, a new kind of green label material made from corn instead of petroleum. While operating as a high-tech printer, Lightning Labels prides itself on its personalized customer service. Lightning Labels provides one stop shopping for all of your custom label needs. For more information and to place orders online, visit LightningLabels.com. For the latest in packaging news and labeling promotional offers, find Lightning Labels on Twitter (@LightningLabels), Facebook, Pinterest, Google+ and LinkedIn.