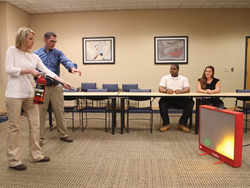 Swedesboro, NJ (PRWEB) April 12, 2017
The Delaware Valley Safety Council seeks to provide world-class safety training to contractors and employees working in industrial facilities in Delaware, New Jersey and Pennsylvania. DVSC continually adds best-in-class training programs to meet the safety-training needs of diverse industrial environments. DVSC's ultimate goal is to have every worker return home safely from work every day.
DVSC is proud to offer one of our courses, "Fire Extinguishers in the Workplace." This 90-minute class, is designed for general employees across all working environments under OSHA law 29CFR1910.157, and helps students distinguish the different classes of fires, the different types of fire extinguishers and how to safely operate them in case of an emergency. Students leave the course with the practical skills of how to operate a fire extinguisher, which is necessary in any workplace, and concludes with the use of a fire extinguisher simulator with the BullsEye Extinguisher System. At only $53 a person, this course teaches students the required skills useful in any workplace fire scenario that can help prevent or limit the damage done by any potential fire.
The Delaware Valley Safety Council holds this course at our facility in Swedesboro, NJ for Friday morning sessions as well as on-site training.
To register for "Fire Extinguishers in the Workplace," or to gain more information please visit our website at http://dvsconline.org/public/fire-extinguisher-training/ and always remember to think and stay safe.
The Delaware Valley Safety Council
510 Heron Drive, Suite 210
Swedesboro, NJ 08085