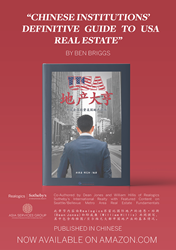 We are proud to offer our contributions and guidance for this growing market segment as the Seattle metro area becomes the next global market on the rise
SEATTLE, WA; NEW YORK, NY; and BEIJING, CHINA (PRWEB) April 11, 2017
Executives at Realogics Sotheby's International Realty (RSIR) announced today that Dean Jones, owner and CEO of Realogics Sotheby's International Realty, has co-authored the book, Chinese Institutions' Definitive Guide to USA Real Estate, which will strategically guide Chinese buyers through investing in the US real estate market with a focus on the Seattle metro area among a dozen targeted gateway cities in the US. The hardcover book will debut on April 19th, 2017 in New York City. Co-authors will then commence a multi-city book tour; travelling to Boston; Washington, DC; Miami; and other US cities. Jones will also present the book during the Asian Real Estate Association of America's 2017 Global + Luxury Summit in Miami on April 22nd, 2017 at a seminar entitled "Making Your Market Matter". The presentation showcases how the Seattle/Bellevue metro area has become among the most desired markets for both individual and institutional investment in the US.
"We are proud to offer our contributions and guidance for this growing market segment as the Seattle metro area becomes the next global market on the rise," said Jones. "This book and its tour is yet another example of our Asia Services Group's commitment to representing our region to a global audience."
Currently, the book is available for purchase in the US for $15.00 on Amazon.com and in China for 88 RMB on major Chinese online book retailers including DangDang, and JD Books. The book will be promoted with an international tour including the book release event scheduled for April 19th from 6:00-8:00 PM, which will be hosted at Sotheby's International Realty-represented luxury development, 212 Fifth Avenue, in New York. It will also be featured in RSIR's exclusive Seattle Luxury Living, an all-Mandarin magazine being published by Tiger Oak Media for late spring 2017 as well as on the company's popular Wechat app.
Jones and William Hillis, research editor and publisher for RSIR, wrote the chapter on Seattle; one of China's most popular US hotspots for real estate purchases in recent years. With the firms' Asia Services Group, RSIR has become a recognized leader in foreign direct investment in the Pacific Northwest. Jones is also a board member of the Washington State China Relations Council.
Chinese Institutions' Definitive Guide to USA Real Estate includes the chapters "Why Purchase US Real Estate"; "Important International Tax Issues"; "Single-Family Investment"; "Closing the Deal"; and more. The book effort was led by Ben Briggs, Executive Vice President of International Business for Briggs Freeman Sotheby's International Realty, who has lived in China for more than ten years. The book highlights markets and submarkets in many of America's top gateway cities, which have been written by local real estate CEOs and top brokers nationwide including:

Nikki Field, Senior Global Real Estate Advisor, Sotheby's International Realty, New York City
Christine Peterson, GM Global Development, Daniel Gale Sotheby's International Realty, Long Beach NY
Dean Jones, CEO, Realogics Sotheby's International Realty, Seattle
Daniel De La Vega, President, One Sotheby's International Realty, Miami
Mark Lowham, CEO, TTR Sotheby's International Realty, Washington DC
Robbie Briggs, CEO, Briggs Freeman Sotheby's International Realty, Dallas-Fort Worth
Paul Brenunich, CEO, William Pitt Sotheby's International Realty, Connecticut
Scott Carvill, CEO, Carvill Sotheby's International Realty, Honolulu
Jenny Pruitt, CEO, Atlanta Fine Homes Sotheby's International Realty
Suzanne Perkins, Senior Realtor, Sotheby's International Realty, Santa Barbara
J Kuper, CEO, Kuper Sotheby's International Realty, Austin
Larry Rideout, CEO, Gibson Sotheby's International Realty, Boston
Catherine Hu, International Financial Analyst, Briggs Freeman International Realty, Dallas
The significance of Chinese investment in the Seattle metro area has expanded substantially in recent years and Jones acknowledges that at least five of his firm's record-setting transactions in 2016 occurred with Chinese nationals. Jones has contributed to numerous global media stories covering the rising profile of the Seattle metro area with recent editorials in The Wall Street Journal, Bloomberg, Forbes, China Daily, CNBC, and newspapers in both the US and Canada.
"Seattle enjoys an envied perch on the Pacific Rim with direct flights to China, desired education, and strong market fundamentals," adds Jones. "The rising profile of Seattle's global significance along with the propensity for capital appreciation has led many notable transactions to our region over other West Coast gateway cities."