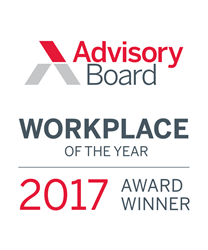 (PRWEB) April 11, 2017
Scottsdale Medical Imaging (SMIL), a leading medical imaging group in the southwestern United States, today announced it has been awarded The Advisory Board Company's 2017 Workplace of the Year Award. This prestigious award recognizes hospitals and health systems nationwide for exceptional performance in driving employee engagement.
"Our national award winners have demonstrated an impressive ability to inspire the highest levels of workforce engagement," said Steven Berkow, Executive Director, Survey Solutions at The Advisory Board Company. "Now more than ever before with a significant portion of the healthcare workforce retiring in the coming years and non-traditional employers encroaching on talent, health systems must be laser-focused on engaging their staff."
The award recognizes SMIL's commitment to developing a best-in-class work environment with highly engaged employees. Engaged employees, as defined by The Advisory Board Company, are those who exhibit a high level of commitment and loyalty to their organization often feeling self-motivated to go above and beyond to help achieve its goals.
"We are truly honored to receive this national award," said Jessica Montgomery, Chief Operations Officer of Scottsdale Medical Imaging. "At SMIL we recognize that employee engagement is not a stand-alone initiative. Engagement is deeply built into everything we do to deliver best-in-class patient care. We chose to make a top-down commitment to communication, deep listening and engaging our teams in how to sustain excellence in patient care. We have developed outstanding leaders at every level who understand exactly how important it is to keep our workforce believing in our company and our mission."
SMIL transitioned to Advisory Board Survey Solutions in 2016 to measure employee engagement and produce measurable data identifying areas of strength and opportunity.
"At SMIL we operate in a highly competitive and rapidly evolving marketplace," said Montgomery. "We believe the companies that become and stay successful are the ones who recognize engagement as essential to quality, productivity and continual innovation."
About Scottsdale Medical Imaging
Scottsdale Medical Imaging (SMIL) provides diagnostic medical imaging services and interventional radiology services at 14 outpatient imaging centers and 3 major hospitals in the Greater Phoenix Metro area. SMIL is owned and operated by 38 board-certified and fellowship-trained radiologists. SMIL has pursued clinical excellence, advanced technology, innovation and research for over 33 years in Arizona. SMIL is one of the three affiliates of Southwest Diagnostic Radiology, ranked in the top five largest private radiology groups in the US. SMIL is also a core member of Strategic Radiology, a national consortium of radiology practices dedicated to achieving quality through collaboration and innovation. To learn more about SMIL, visit http://www.eSMIL.com
About The Advisory Board Company
Advisory Board is a best practices firm that uses a combination of research, technology, and consulting to improve the performance of 4,400+ health care organizations and educational institutions. As the health care business of The Advisory Board Company, Advisory Board forges and finds the best new ideas and proven practices from its network of thousands of leaders, then customizes and hardwires them into every level of member organizations, creating enduring value. For more information, visit http://www.advisory.com.