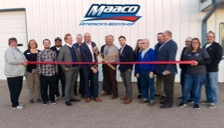 Kingman, Arizona (PRWEB) April 10, 2017
Cambridge Automotive Group (CAG), the largest Maaco franchisee in the North America, recently opened a new Maaco store in Kingman, Arizona. The group co-hosted a ribbon cutting ceremony with the Kingman Chamber of Commerce to celebrate the occasion.
The new Maaco store not only plans to participate in community events and be an active member of the Chamber of Commerce, but provide an economic boost to Kingman. This year the store has already partnered with the Boys and Girld Club of Kingman to be a sponsor for 2017.
"Maaco Kingman is proud to bring jobs to this community, and continue to grow and employ even more people," said Jason Eagar, Director of Operations for CAG. "We are focused on helping the Kingman economy by buying parts and materials from local businesses. Currently, Maaco Kingman is the only paint and body shop in the area that offers choices to its customers."
Maaco Kingman plans on offering several specials throughout the year on customer auto body repair and paint needs. Maaco Kingman fixes routine dents and dings, and provides structural repairs as well by its expertly trained technicians to provide high-quality work. Plus, all structural repairs are backed by a lifetime warranty. The Maaco store also provides superb painting services, offering several different packages with varying price points and warranties.
For more information on Maaco Kingman, visit its website or call 928-263-2508.
About Cambridge Automotive Group
Cambridge Automotive Group was formed in 2015 to pursue a growth strategy in the car care industry. CAG is the largest Maaco® franchisee in the world. The company has attracted a best-in-class management team and continues to invest significant capital to grow in the Macco system through remodels and new center development. The group is seeking to open additional Maaco locations with growth targeted in California, Texas, Nevada, Arizona, New Mexico, Oregon, Utah and Washington.
###
About Maaco® 
Maaco Auto Painting & Collision Repair -- a part of the Driven Brands, Inc. family of automotive aftermarket franchise brands based in Charlotte, NC -- is America's #1 Bodyshop. Maaco provides automotive paint and cosmetic repair services for nearly 500,000 drivers annually. With more than 500 independently owned and operated franchises across the United States and Canada, Maaco has restored the safety and appearance of more than 20 million vehicles over 45 years. Maaco ranked #106 on Entrepreneur Magazine's 2015 Franchise 500 Rankings, and is currently #1 in the automotive appearance services category. For more information, visit Maaco.com. For more information about franchising opportunities, visit MaacoFranchise.com.