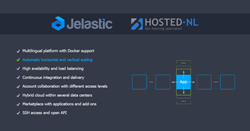 Today we are pleased to introduce Hosted.nl, our new partner with a regional data center in the Netherlands, providing a bigger choice of auto scalable applications hosting for local developers
(PRWEB) April 11, 2017
Jelastic Inc., PaaS and CaaS cloud platform that provides freedom for developers and automation for hosting providers, partnered with Hosted.nl, a fast growing Dutch Cloud provider of managed internet services, platforms and infrastructure for businesses.
"Jelastic is actively expanding on Dutch Cloud Hosting market for several years and the demand is keep growing. Today we are pleased to introduce Hosted.nl, our new partner with a regional data center in the Netherlands, providing a bigger choice of auto scalable applications hosting for local developers," said Jelastic CEO and Co-founder Ruslan Synytsky.
In order to increase the online success of customers, Hosted.nl use their experience, knowledge and innovative products.
"Now Hosted.nl provides a perfect Platform as a Service solution for designing and delivering applications. It meets the need of our customers to develop applications faster and significantly shorten the time to market," commented the partnership Jeroen Gerritsen, Managing Director at Hosted.nl.
Developers can start running their new and legacy applications with absolutely free traffic within Hosted.nl platform powered by Jelastic, benefiting from a wide range of features:

Fast and easy application deploy
Cloud hosting customers can deploy their Java, PHP, Ruby, Python, Node.js and Dockerized applications in just a few minutes, reducing go-to-market time.
Intuitive UI for effortless management
Developers dashboard makes it easy to create a complete load balanced environment and ensures a truly fast deployment. Access to log and config files, team collaboration functionality and integration with CI/CD tools make the application development and management smooth and effortless.
One-click installation of the most popular applications
Jelastic dashboard allows to install popular applications such as WordPress, Magento, PrestaShop and Jenkins in one click. Within minutes, the applications are installed and running.

Applications in Jelastic are scaled up and down automatically, ensuring the highest performance, density and availability. Hosted.nl powered by Jelastic provides scalability on two different levels. First is the application scaling on container level by adding or removing instances. Second is the CPU and memory resource units scaling.
Because the system can automatically scale applications, Hosted.nl customers will pay only for really consumed resources. When containers are not in active use, they are automatically hibernated to reduce the spends.
Customers are welcome to try for free the auto-scalable cloud hosting platform at https://jelastic.cloud/details/hostednl
About Jelastic
Jelastic is a cloud platform for hosting applications that can be deployed on bare metal hardware or any IaaS. Currently, it is running as public, private and hybrid cloud on top of more than 50 data centers worldwide. The platform provides certified containers for Java, PHP, Ruby, Node.js, Python and .NET and the ability to use custom Docker containers. Jelastic offers agile deployment models without coding to proprietary APIs, auto-scaling for stateless and stateful applications, collaboration, access control, monitoring, backup and disaster recovery, built-in billing and business analytics tools, while driving down TCO with high density and hardware utilization. For more information, visit us at https://jelastic.com/
About Hosted.nl
Hosted.nl is a fast growing Dutch Cloud provider of managed internet services, platforms and infrastructure for businesses and developers. Our goal is to increase customers' online success, that is achieved through our expertise level, knowledge and innovative products. Our strategy is to secure a strong market position in the Netherlands and Belgium through innovation and scaling in the next three years.
Hosted.nl powered by Jelastic provides the optimal infrastructure performance and flexibility within one cloud hosting platform to save customers from routine tasks. More info at https://www.hosted.nl/