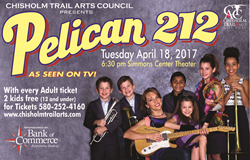 (PRWEB) April 12, 2017
CTAC Live, through the generous support of Bank of Commerce, Chisholm Trail Arts Council is pleased to present Pelican212. Pelican 212 is a band of brothers and sisters that honed their skills busking on the sidewalks of Nashville, New Orleans and Pensacola. The performance is scheduled on April 18 at 6:30 PM at the Simmons Center in Duncan, OK.
Armed with trumpets, trombone, drums, keyboard, guitar and voices, this high energy family band delivers explosive renditions of Louisiana Soul! The band features 12-year-old trumpet playing twins Max and Kolbe Rees. Other siblings that make up the group include Angelle, Marie, Giovanni, Mollie and their oldest sister Katie, who helped teach many of her younger siblings how to play their instruments.
Recently, Pelican212 were featured performers for President Trump's Military Inaugural Ball in January. Max and Kolbe were also seen on NBC's Little Big Shots, with Steve Harvey. Wearing bespoke blue suits, the boys performed the iconic song, "When the Saints Go Marching In."
Special pricing for this family show includes 2 free child tickets (12 and under) with one paid adult. For more ticket pricing, please call CTAC Office 580-252-4160.
Chisholm Trail Arts Council is a nonprofit organization with a mission of Promoting and Inspiring the Arts in Southwest Oklahoma. CTAC receives support through Oklahoma Arts Council, McCasland Foundation as well support from businesses and memberships. CTAC Live Concert Series is one of five programs. Other programs include Arts Explosion, Art Education in Schools, ArtWalk Duncan, and the CTAC Art Gallery.