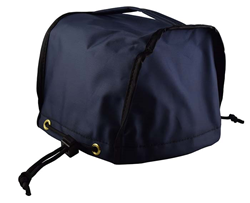 These protective covers are a great investment in order to prolong the life of equipment that is part of an outdoor Point-of-Sale station
Wheeling, Illinois (PRWEB) April 12, 2017
In outdoor environments, it can be challenging to maintain and protect expensive POS peripherals and payment terminals in unpredictable weather. MMF POS has designed and developed a solution to protect these peripherals from exposure to rain, dirt, dust, snow and other harsh conditions for merchants with outdoor operations.
The new protective payment terminal covers from MMF POS provide a water and dust resistant shield for your device when it is not in use. This easy-to-use solution is available in two sizes to easily cover most popular payment terminal models or other devices. The new covers are perfect for use in theme parks, food trucks, concession stands, sidewalk sales and other outdoor events and festivals.
"These protective covers are a great investment in order to prolong the life of equipment that is part of an outdoor Point-of-Sale station." said Larry Greenberg, MMF POS Director of Sales and Marketing. The covers are constructed of durable, laminated nylon fabric to help ensure long-lasting and water resistant protection. The protective covers are carefully crafted with a top handle for easy placement and removal. A close-fitting, dual drawstring design provides effortless bottom closure when tightened.
These MMF POS protective covers can also be customized to meet specific size requirements, as needed. Custom colors and logo imprinting are also available. Learn more at http://www.mmfpos.com or by calling 800-769-1954.
MMF POS (http://www.mmfpos.com) is a leading supplier, designer and US manufacturer of cash drawers, POS mounting solutions, lockable storage and custom designs. MMF POS has been recognized for outstanding customer service and high-quality products that enhance the retail checkout experience. Located in Wheeling, IL, MMF POS has over 125,000 sq. ft. of manufacturing and distribution facilities. We proudly design and manufacture most of our steel solutions on-site with state-of-the-art equipment. MMF POS also provides custom and customized solutions for the Point of Sale market.