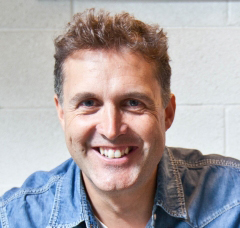 We opened LEON because we wanted to prove it was possible to serve food that both tastes good and does you good.
LOUISVILLE, KY (PRWEB) April 12, 2017
Although serving healthy, high-quality cuisine in a fast-food setting is table stakes these days at most fast casual concepts, it was a pretty risky way to do business in 2004, when John Vincent and Henry Dimbleby launched LEON, a quick-service brand based in the U.K.
"We were working long hours and eating fast food, which we realized was making us fall asleep and wake up fat," said the 45-year-old Vincent, who will keynote the Restaurant Franchising and Innovation Summit being held 18-20 July in London. "We became increasingly frustrated by what was on offer and set out to create fast food as it would be served in heaven."
The LEON menu, which is built around the Mediterranean diet, focuses on fruits and vegetables, whole grains, seeds and unrefined cereals. It replaces butter with healthier fats such as olive oil, use spices and herbs instead of salt to flavor dishes and encourages more chicken and fish with a little red meat thrown in for good measure.
While many brands now share this focus, LEON's menu and website take it a step further, allowing customers to filter their orders by dietary needs. For example, a gluten-free, pregnant vegan, who is allergic to nuts, can check those filters to only view menu options that fit those needs.
"We were fortunate to be good friends with Chef Allegra McEvedy, who shared our views about the importance of bringing the best food to the most people," Vincent said. "We spent a lot of time perfecting the idea, and when a queue formed outside the day we opened, we knew we had been right."
Vincent chatted with FastCasual about his 13-year journey to build the brand from one location to more than 50, which includes plans to open in the U.S. by year's end.
FastCasual: How are you able to serve such high-quality food at fast-food prices?
Vincent: Our mantra is that 'innovation=quality up, cost down.' Getting good food to the right price requires high volume so we can be flexible on gross margin, the use of seasonal produce and creativity when working with suppliers to optimize their processes and supply chain, and our recipes are tweaked and tweaked at the margin to improve flavor and take out any ingredients that are not pulling their weight.
FastCasual: What is your goal with the business? Will you be opening around the world? Where? Are you looking to open in the U.S.?
Vincent: We opened LEON because we wanted to prove it was possible to serve food that both tastes good and does you good. We want to make it easy for people to eat well on the high street and on the move; wherever they need us. We want to do this in every major city in the world. We opened our first European store in Schiphol Airport [Amsterdam] last year and have announced our intention to open in the U.S. by the end of this year. We're excited about taking LEON to the home of fast food, and would love to make LEON a global brand.
FastCasual: Why do you think LEON resonates with customers?
Vincent: What has always made us feel like we were on the right track was our customers — the overriding message we have always got was that they were glad we were around. We still ask for their feedback and read each and every message. Like us, they want to eat fun, fresh, fairly priced food, served by people who smile because they want to.
FastCasual: How do you choose your franchise partners? What makes a good LEON franchisee?
Vincent: Currently, we have two franchise partners in Europe, HMSHost International and SSP. When we started our search for partners we knew we needed brilliant people, with experience in running great restaurants. A good LEON franchisee is someone who really gets us and who shares our mission to build a brand with purpose. Like us, they need to think that helping others to eat well and live well is important, and that sourcing sustainably and treating their team like family is not only good for business but the right thing to do.
Want to hear more from Vincent about, "how fast food can be good food?" Come to the Restaurant Franchising and Innovation Summit, 18-20 July in London. Early bird pricing ends Friday, 14 April.
About Networld Media Group
Founded in 2000, Networld Media Group is a leading business-to-business (B2B) media communications company specializing in digital media, associations and events in the mobile, self-service, digital signage, retail, food service and financial services industries. Online properties include ATMmarketplace.com, BlockchainTechNews.com, DigitalSignageToday.com, FastCasual.com, FoodTruckOperator.com, PizzaMarketplace.com, KioskMarketplace.com, MobilePaymentsToday.com, QSRweb.com, RetailCustomerExperience.com and ChurchCentral.com. Networld event properties include the Fast Casual Executive Summit, CONNECT: The Mobile CX Summit, Interactive Customer Experience Summit, Bank Customer Experience Summit and the Restaurant Franchising & Innovation Summit. Networld also operates the ICX Association. Its newest offering, Networld Press, provides clients with an all-in-one website solution featuring custom website design and ongoing editorial, content strategy and website updates.
###