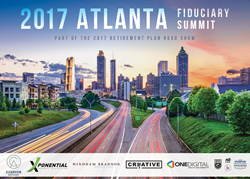 We continue to look for creative ways to help employers and employees, going beyond 'traditional' plan oversight and fiduciary protection. We are excited to share our strategies with the local community
Atlanta, GA (PRWEB) May 02, 2017
The 2017 Atlanta Fiduciary Summit will bring together both local and national expertise to interact with employers made up of Finance, Human Resources and Benefits Executives. Guest speakers will provide insights to help employers reduce fiduciary risk, identify plan upgrades, and make better decisions that positively impact participants.
"We continue to look for creative ways to help employers and employees, going beyond 'traditional' plan oversight and fiduciary protection. We are excited to share our strategies with the local community, " emphasized Greg Fiore, Managing Director - Clearview Advisory.
The educational event will feature Fiore as the discussion leader alongside local and national experts including:
Heidi LaMarca, President & CEO – Windham Brannon
Caroline S. Talley, Senior Counsel – Parker Hudson Rainer & Dobbs
Tina Whitelaw, Founder – Creative, LLC
David Pittard, Managing Director – OneDigital
Landria Voigt, Nutritional Consultant – CenterSpringMD
More TBA!
Topics of Discussion:
Using Your Benefit Dollars to Maximize Employee Wellness
Committee Best Practices for Effective Plan Oversight – How to Protect Fiduciaries
Ask the Experts – Local & National Professional Panel
Key Investment & Industry Trends
Eating Well and Feeling Great in a Busy World
RFP/RFI Best Practices
And more!
The 2017 Atlanta Fiduciary Summit is a stop of the 2017 Retirement Plan Road Show and will be held on Tuesday May 16, 2017 at 103 West in Atlanta, GA from 11:00 am to 3:00 pm (lunch will be served). The Atlanta Fiduciary Summit is approved for 3 CPE/CPA credits, 3 HRCI general credits, and 3 SHRM Professional Development Credits.
Seating is limited and priority will be given to local plan sponsors, with a waived $150 registration fee available on a limited basis. Additional details, registration information, and an overview of our Elite Retirement Consultants can be found on the event page below:
http://xgrowthsolutions.com/events/2017-atlanta-fiduciary-summit/
About Clearview Advisory
Since the founding of Clearview Advisory 15 years ago, our firm provides consulting in all areas of employer-sponsored savings plans. The financial wellbeing of employees is our #1 priority. We operate as an extension of the executive team, allowing our finance and HR partners to focus on their core business. Our attention to detail and documented process enables full transparency. We save our clients time and money, and promote meaningful benefits that are valued and understood.
About Xponential Growth Solutions
Xponential Growth Solutions (XGS) unites 401(k), 403(b) and retirement plan sponsors with elite resources and exclusive connections. Through research, fiduciary summits, and industry expertise, they help the nation's retirement plan sponsors, fiduciaries, and trustees evaluate their plan and navigate the retirement plan industry. Working to help America reach their retirement goals one retirement plan at a time, XGS also founded the Retirement Plan Roadshow, a national series of fiduciary educational summits dedicated to human resources, finance and business professionals in charge of America's 401(k), 403(b), and retirement plans.