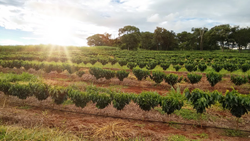 Brazil (PRWEB) June 20, 2017
SouthAmerica.travel is excited to announce their newest Agriculture Tours in Brazil intended for farming enthusiasts and agriculture experts. These specialized farm tours take travelers to Brazil's agricultural territories to learn about Brazil's farming success regardless of the temperate climates. From the Coopavel Show Rural in Cascavel to Expo Londrina, all of these farm tours can be customized to include research centers, agriculture cooperatives, Argentina farms, or even coffee fincas in Colombia.
New Tour: Brazil Farm Visits & Iguassu Falls
Travel through the countryside of Brazil past metropolitan cities to natural world wonders on the magical Brazil Farms & Iguassu Falls tour. Starting in the "marvelous city" of Rio de Janeiro. Journey to Curitiba, a transformed urban city, sparkling with culture and greenery, add a railway excursion through the lush Atlantic Rainforest. Continue to Tibagi, the largest municipality in the state of Paraná and an agricultural powerhouse. As Brazil's most important wheat, corn and soybean producer, the economy around agriculture. Visit both small and medium scale farms sprinkled throughout the region and walk alongside expert agriculture guides to learn about the modern technologies and machinery used in Brazil. The technological advances have contributed to their overall success despite the challenging climate.
Continue to Londrina, another region in the Paraná state with an economic emphasis in the agriculture industry. Visit the Embrapa Brazilian Agricultural Research Corporation to study the soil and soybean varieties. Learn how Embrapa develops varietals that can withstand the intense tropical climates of Brazil. Continue to the IAPARA, the Paraná State Agricultural Research Center and tour the facilities with an expert guide. By the end of this tour, travelers will have a newfound understanding of Brazil's countryside & its agriculture powerhouse. Complete the tour with a must-see highlight in Brazil and Argentina, Foz do Iguassu, a New World Wonder. Admire the 275 waterfalls, cruise by boat underneath the falls and watch as the delicate mist strays from the rushing falls for a magnificent end to a whirlwind tour.
New Tour: Brazil's Coffee Region & Colonial Highlights
Sip Brazilian coffee and travel back in time through colonial Brazil on the Brazil Coffee Region & Colonial Highlights Tour. This unique itinerary is the perfect combination of agriculture and enchanting historical cities. Starting in Rio, venture to Brazil's countryside in the Rio das Flores Valley and try the fresh Brazilian espresso while learning about the magic that goes into producing this extra rich coffee beans. Sample a number of traditional Brazilian flavors infused with regional twists. Continue to Valença and visit the city of Vassouras, known for its pioneer-era coffee farms. Learn how to enjoy coffee like a Brazilian.
After indulding in some of the worlds best coffee continue to the charming town of Paraty, surrounded by lush green foliage and mountains. Stroll along the cobblestone streets lined with cafes and restaurants, or lounge on the white-sandy beaches. Visit a nearby Sustainable Agroforest Farm that specializes in "PANCS" (Nonconventional Edible Plants) run by the Graúa community.
Learn about "Agroforestry," as some call it, the practice of planting trees and woodland areas in a particular way, so that the land thrives off of its ecological and economic benefits. Hike through the agroforest region, stop by the organic garden, bamboo plantation and "jucara" palmetto plant locations and learn about the sustainable alternatives used on the farm along with the flora and fauna of the Serra da Bocaina National Park.
These two Agriculture tours in Brazil are fantastic additions to any South America tour and can be customized however travelers see fit. SouthAmerica.travel can arrange the perfect tailor-made tour throughout Brazil and the rest of South America. After gallivanting around Brazil's countryside, continue with a cruise down the Amazon River, soak in the mystery of Machu Picchu or dance the Tango in Buenos Aires.
With over 15-years of experience, SouthAmerica.travel prides itself in partnering with the best 4-star and 5-star hotels and crafting unique tailor-made holidays to design the trip a lifetime. Accomplished local guides, private excursions, superior accommodations and flexibility in travel planning make for an extraordinary travel experience - sure to spawn memories that will last a lifetime. To get started, visit http://www.SouthAmerica.travel.
--------
About Us: SouthAmerica.travel is a tour operator specialized in custom South America tour planning for travelers worldwide from its offices in Seattle, Lima, Buenos Aires, Rio de Janeiro and Stuttgart, Germany, online and with local phone numbers in 88 countries. They offer 4-star & 5-star South America tours to Brazil, Peru, Argentina, Colombia, Ecuador, Bolivia, Chile, Paraguay and Uruguay. Just in time for Carnival 2017, a new ten-day journey of Rio's Champion Parade & Colonial Brazil, starts March 3rd, 2017. Licensed and bonded in the U.S., SouthAmerica.travel has been sharing its love of South America travel since 1999 and is proud of its A+ rating by the Better Business Bureau and ASTA affiliation. SouthAmerica.travel - Our name is our passion™