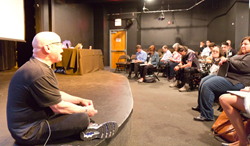 "A conference of this caliber is a huge plus to the entire region, because the speakers we bring to Duluth are regularly featured at conferences around the world." - Marty Weintraub, Aimclear Founder
DULUTH, Minn. (PRWEB) April 12, 2017
Some of the leading and most innovative minds in the marketing industry are coming together April 27 for Zenith Digital Marketing Conference, held in Duluth, Minn. Now in its sixth year, Zenith is designed for marketing pros at all levels who seek to execute effective and creative data-driven campaigns.
Zenith is a partnership between the Duluth Area Chamber of Commerce and Aimclear, with gross proceeds donated to Fuse, the Chamber's organization dedicated to retaining top young talent in the Duluth/Superior area. Aimclear, a leading marketing agency based in Duluth, creates the agenda and coordinates session speakers. Zenith is designed to bring meaningful business benefits and growth opportunities to a wide range of regional organizations.
"Zenith provides marketing professionals and students the unique opportunity to tap the minds of some of the marketing world's smartest people," said Marty Weintraub, Aimclear founder. "A conference of this caliber is a huge plus to the entire region, because the speakers we bring to Duluth are regularly featured at conferences around the world, which would cost marketers thousands of dollars in fees and travel expenses elsewhere. It's amazing to see this happen in our community, for the benefit of regional businesses."
Keynote speakers for Zenith Digital Marketing Conference include Microsoft Search Evangelist Christi Olson and iPullRank Managing Director Michael King. Christi will deliver the morning keynote, "Futurist From the Point of Being: Marketing to Machines," in which she'll uncover the world of digital assistants and the role they'll play in the future of business. King will follow the message with the session, "Machine Doing," which will dive into the possibilities of artificial intelligence and what it means for marketers.
Zenith Digital Marketing Conference will be held at Greysolon Ballroom and Zeitgeist in downtown Duluth, Minn.. Registration begins at Greysolon at 7:30 a.m. The morning keynote will begin at 8:30 a.m. The conference concludes at 4:30 p.m. after the closing keynote. Attendees are all invited to a networking event and celebration from 4:30 to 6 p.m. at Blacklist Artisan Ales.
Registration is $299 for a full conference pass. Duluth Chamber members can register for $249. The rate for nonprofits is $149. College students with a valid student ID can attend for $99.
More information and registration details can be found at http://www.zenithconference.com.
About Aimclear®
Aimclear® is a 5x Inc.500/5000 digital marketing agency dominant in audience targeting and customer acquisition. Since 2007, the agency has pioneered cutting-edge creative strategies and psychographic audience targeting to track, and convert laser focused audience segments from introduction to conversion for its clients. Aimclear has offices in Duluth and St. Paul, Minnesota. For more information, visit Aimclear.com or follow via Twitter @Aimclear.