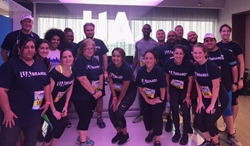 This run serves as a great team building exercise, while giving back to a good cause.
Fort Lauderdale, FL (PRWEB) April 12, 2017
Uniform Advantage (UA), a multi-channel retailer of uniforms for healthcare and hospitality industries joins local businesses in downtown Fort Lauderdale for the first time to participate in the Mercedes-Benz Corporate 5K Run, one of the largest 5K races in the nation.
In April of 2016, Uniform Advantage relocated to downtown Fort Lauderdale. The Mercedes-Benz Corporate Run is a staple event for businesses in downtown Fort Lauderdale as well as across South Florida. With an estimated 8,000 participants from more than 270 companies, parts of downtown Fort Lauderdale were shut down and streets were closed as the race began Thursday evening.
Uniform Advantage had more than 20 employees thrilled to join the Fort Lauderdale community. This run serves as a great team building exercise and allowed UA to be represented amongst other well-known companies across South Florida, while giving back to a good cause. In addition, the Uniform Advantage Coed team placed in the top three for the Retail Industry.
"The UA team truly enjoyed participating in the Mercedes-Benz Corporate Run. It was a great opportunity to celebrate our first-year membership in the vibrant Fort Lauderdale business community as well as provide a healthy opportunity for our team members to connect outside of the regular work environment," stated Tyler Bruce, Vice President of Human Resources, and participant in the race.
A portion of the proceeds from the run and walk benefits United Way, a Broward County organization that assists with solutions to issues the local community faces.
About Uniform Advantage
Uniform Advantage has represented style, quality and, above all, customer satisfaction for more than 30 years. As the first division of UA Brands, the chain was launched with a single South Florida store in 1985. Today, the company operates 29 retail locations in key markets across the U.S.; e-commerce and print catalog divisions; plus, designs and manufactures its own proprietary healthcare apparel lines. The company's corporate office is based in Fort Lauderdale, Florida with a distribution center near Atlanta, Georgia. Learn more at http://www.UniformAdvantage.com or by calling 800-283-8708.