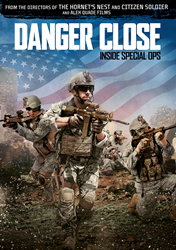 Strong Eagle Media's films give viewers an up-close, raw, authentic look at what our servicemen and women experience on a 24/7/365 basis. — John Krotec, GreenZone Hero Founder & Veteran
Sarasota, Fla (PRWEB) April 13, 2017
GreenZone Hero has enlisted Strong Eagle Media (SEM), based in Los Angeles, Calif., into the growing veteran-friendly commerce community. The pairing is a natural fit: The GreenZone Hero mission is to increase awareness of businesses that offer benefits to veterans and to help member businesses grow their commerce, and SEM reinforces and supports that mission by donating time, money and other resources to organizations that serve veterans. Together, these organizations are launching a campaign to the GreenZone Hero membership to provide veteran-friendly businesses a formalized Community Outreach Program and make "Veteran's Day, Every Day."
SEM is well-known in the entertainment industry and by veteran advocacy groups for producing award-winning dramatic feature-length films accurately portraying American combat troops. The goal of SEM's films is to document the service of the servicemen and women who have deployed to Iraq and Afghanistan, telling their stories through a unique perspective—the wars' veterans themselves. These films show what war looks like from those fighting it. SEM's most recent film Danger Close, which arrives in theaters April 28 and will be available on demand May 2, is the third film in the "Heroes of Valor" collection. The collection also includes SEM's earlier award-winning films The Hornet's Nest (2014) and Citizen Soldier (2016).
GreenZone Hero joined SEM at the World Premiere of the film Danger Close in Tampa, Florida at the Gasparilla International Film Festival. Now, all GreenZone Hero businesses will have access to the "Heroes of Valor" films to screen at their businesses as a vehicle to honor veterans and connect with their individual communities, veterans, and customers.
John Krotec, Founder of GreenZone Hero and a Veteran himself said, "Strong Eagle Media's films give viewers an up-close, raw, authentic look at what our servicemen and women experience on a 24/7/365 basis. Courage, valor, teamwork, and sacrifice are personified with their brand of digital storytelling. GreenZone Hero is honored and feels privileged to partner with them and their team of professional patriots. Their work magnifies the human condition of conflict and recovery in a way I've never seen before. Our companies are both committed to building stronger communities through the use of such heart rendering and impactful films."
As part of this initiative, GreenZone Hero also recognizes Gravitas Ventures, the studio distributing Danger Close, with 2 of the patented GreenZone Hero medals. Gravitas Ventures will be included in this list of distinguished companies, as it is co-owned by Veteran Michael Murphy, who served as a Captain in the US Army and deployed in support of Operation Iraqi Freedom (OIF). They make donations of time, money, or other resources to organizations that serve veterans.
For more information please visit greenzonehero.com and strongeaglemedia.com.
About GreenZone Hero: The GreenZone Hero mission is to increase awareness of businesses that offer benefits to veterans and to help Member businesses grow commerce and prosper. GreenZone Hero also works to raise the profile of veteran-focused nonprofit foundations and to help raise donations and support for our Ambassador organizations.
About Strong Eagle Media (SEM): Strong Eagle Media is a full service media company designed for the 21st century. The company's principals – Christian Tureaud, Bert Bedrosian, Wendy R. Anderson, and David Salzberg – have a combined 100-year track record that encompasses all areas of business, finance, entertainment, and national security. SEM's mission is to provide world-class content to capitalize on existing distribution and production partnerships built over the last decade. These relationships were created through a consistent track record of successful Award-Winning theatrical and home entertainment film releases, as well as, Critically Acclaimed television and digital media properties. SEM's ability to effectively and efficiently produce, deliver, own and license original content places the company in a unique and enviable position in the ever-changing entertainment universe.
About Gravitas Ventures: Gravitas Ventures is a leading all rights distributor of independent cinema. Founded in 2006, Gravitas connects independent filmmakers and producers with distribution opportunities across the globe. Working with more than 500 content partners, Gravitas Ventures has distributed thousands of films into over 100 million homes. Recent releases include Katie Holmes' feature directorial debut, "All We Had," Jonathan Hock's "Fastball," Colin Hanks' "All Things Must Pass," "Being Evel" from Academy Award® winning director Daniel Junge and producer Johnny Knoxville, "Backstreet Boys: Show 'Em What You're Made Of," and "For The Love of Spock" from Director Adam Nimoy. For more information, please visit gravitasventures.com, and sign up for the e-newsletter, follow @GravitasVOD on Twitter and @gravitasventures on Instagram.
# # #