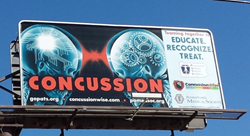 Harrisburg, PA (PRWEB) April 14, 2017
To begin National Athletic Training Month, a group of PATS members and students traveled to New York City and braved the elements to stand outside The Today Show at Rockefeller Plaza and Good Morning America in Times Square on March 3rd. These groups used signs and banners to promote National Athletic Training Month. Some of the hosts (Al Roker and Michael Strahan) posed for pictures. This event has become a much enjoyed, long lasting and favorite tradition to kick off National Athletic Training Month.
Next, PATS also took to the airwaves. PATS members Jeff Shields and Larry Cooper joined Michael Parks from iHeart radio for the radio show "Taking Care of Business" that aired March 18th. In addition to the information about athletic training education and ongoing training needed to be a licensed athletic trainer in Pennsylvania, they discussed the duties of athletic trainers and the role they play on the sidelines. Shields and Cooper had tips and advice for parents to keep their student-athlete safe along with a discussion about the many ways that the PATS is working with the Pennsylvania State Legislature to help keep student-athletes safe. They also discussed the importance of preventing and treating concussions. This show was aired on the iHeart radio app, online at http://www.whp580.com and on a podcast.
In sticking with the "Your Protection is Our Priority" theme of 2017 National Athletic Training Month, PATS invested in billboard advertisement throughout the commonwealth to promote concussion education via the ConcussionWise training program. This program provides culturally competent, skills-based traumatic brain injury trainings to parents, coaches and physicians involved with youth athletes. PATS utilized funds they received from a grant provided by the Pennsylvania Department of Health to provide free concussion education throughout the Commonwealth for physicians, physician assistants, coaches, parents and athletes participating in youth sports. Winter storm Stella may have postponed the annual Hike to Harrisburg event, but the PATS Executive Board found other ways to establish PATS presence in Harrisburg.
In lieu of the Hike to Harrisburg, PATS President Guy Sanchioli and President-Elect George Roberts attended the Freshman Breakfast sponsored by the Winter Group (PATS lobbyist group) at the state Capitol. This breakfast was an opportunity for freshman legislators to be introduced to many medical groups from the Commonwealth and to discuss hot topic issues. This breakfast was also a great event for PATS to network with other medical professionals within the Commonwealth. Before the breakfast, Sanchioli and Roberts were able to attend a reception for Representative Dan Miller of Allegheny County. Representative Miller discussed mental health issues of athletes as well as medical issues for the tactical athlete. Representative Miller expressed support in PATS efforts on both of these issues. Sanchioli and Roberts were also able to meet with Representatives Ed Gainey of Allegheny County and Ryan Bizzarro of Erie County to help schedule ConcussionWise presentations in their respective areas. These meetings demonstrate the importance PATS places on maintaining a positive and on-going working relationship with those legislators in the Commonwealth.
Lastly, PATS public relations committee sponsored a student public relations contest. Students from athletic training programs across the Commonwealth had the opportunity to promote the profession of athletic training and National Athletic Training Month based on the "Your Protection is Our Priority" theme. The contest was opened to any accredited Pennsylvania Athletic Training Program. This contest challenged students to be creative with videos, presentations, public service announcements, posters, etc. The winners of the contest won a monetary prize and will be honored at the 2017 PATS Annual Symposium in Erie, PA in June. For more information regarding this topic or to schedule an interview with PATS President Gaetano Sanchioli, MS, LAT, ATC, PES (president(at)gopats(dot)org), please contact Linda Mazzoli, MS, LAT, ATC, PATS Executive Director at patsexecutivedirection(at)gopats(dot)org.
The Pennsylvania Athletic Trainers Society, Inc is a progressive organization of licensed healthcare professionals who work under the direction of a licensed physician. Our society continues to increase public awareness and education regarding Athletic Trainers and the Athletic Training profession while serving as the premier source of information for public safety, injury and illness prevention, early intervention, patient care, and healthcare delivery for the physically active in the Commonwealth.
"The Keystone to a Healthy and Physically Active Life"