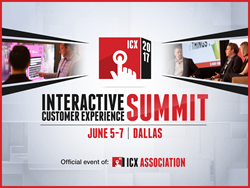 ...the buzzword for not just retailers, but retail banks, restaurants and many others, this year is definitely IoT.
LOUISVILLE, KY (PRWEB) April 18, 2017
The upcoming June Interactive Customer Experience (ICX) Summit boasts top leaders in customer experience speaking on a range of topics from CX strategy to Internet of Things, integration to measuring customer experience and return-on-investment.
That latter focus will be the subject of a panel featuring Albert Vita, director, strategy and insights for The Home Depot. The session, sponsored by Intel and moderated by Raj Maini, worldwide director of marketing for visual retail at Intel, promises insightful real-life information and best practices.
Vita will discuss metrics, benchmarks and tools retailers can use to determine if the retail experience is hitting the mark or falling below the bottom line.
"I think the buzzword for not just retailers, but retail banks, restaurants and many others, this year is definitely IoT. The Internet of Things isn't exactly a new concept, but it's one that certainly seems to be seizing the imagination of brands looking to get an edge on the competition," said Christopher Hall, Managing Director of the ICX Association.
Another session which will surely draw big attendance targets customer-facing robots and how early leaders such as Lowe's and the makers of Pepper, are making robots a real part of today's retail landscape. Sarah Furnari, VP of retail experience for BEHR, will share her insight and view of how such emerging technologies are playing a more valuable role each year. SoftBank Robotics, the session's sponsor, will have Pepper the robot at the summit.
Also on the agenda for the June 5-7 event, being held at the Four Seasons Resort Dallas at Las Colinas, highlights on how to design the store with digital in mind. Phillip Raub, founder and CMO at b8ta, will speak on best approaches in integrating digital into the brick-and-mortar environment without overwhelming the store environment. The session, sponsored by NEC Display solutions, will be moderated by Richard Ventura, VP of business development and solutions at NEC Display Solutions of America.
"This year's summit is going to be bringing in a panel to specifically address one of the biggest areas of concern for brands these days: millennials. That's one thing I think people will find particularly useful and enlightening. Brands are trying to figure out what millennials want and how to approach and engage with them, so we're bringing in a panel of the people themselves to talk to attendees," said Hall.
For a deeper look at the agenda, click here and to register for what promises to be a valuable event, click here. Early bird registration is now open through May 5.
About Networld Media Group
Founded in 2000, Networld Media Group is a leading business-to-business (B2B) media communications company specializing in digital media, associations and events in the mobile, self-service, digital signage, retail, food service and financial services industries. Online properties include ATMmarketplace.com, BlockchainTechNews.com, DigitalSignageToday.com, FastCasual.com, FoodTruckOperator.com, KioskMarketplace.com, MobilePaymentsToday.com, PizzaMarketplace.com,QSRweb.com, RetailCustomerExperience.com and ChurchCentral.com. Networld event properties include the Fast Casual Executive Summit, CONNECT: The Mobile CX Summit, Interactive Customer Experience Summit, Bank Customer Experience Summit and the Restaurant Franchising & Innovation Summit. Networld also operates the ICX Association. Its newest offering, Networld Press, provides clients with an all-in-one website solution featuring custom website design and ongoing editorial, content strategy and website updates.