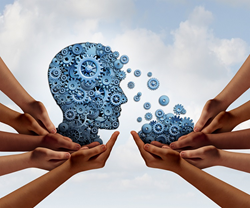 We serve a global community, and that requires a global vision.
Hoboken, New Jersey (PRWEB) April 13, 2017
A NYC area IT consultant and MSP reviews the lack of diversity in the technology industry and the benefits diversity can bring, and suggests a multi-faceted approach to building diversity in the tech workforce in a new article on the eMazzanti Technologies website.
In the informative article, the company also describes its own record of diversity throughout the organization's history.
"We serve a global community, and that requires a global vision," says Jennifer Mazzanti. "The diversity in our workforce and partnerships fuels that vision, enabling us to provide powerful solutions for our customers."
Below are a few excerpts from the article, "Diversity in Technology: Challenge Brings Opportunity."
"Benefits of Diversity in Technology
Increased creativity – Multiple studies have shown that diverse teams demonstrate greater innovation, more complete understanding of the market and increased ability to solve problems.
Improved financial performance – Ethnically diverse companies out-perform homogenous companies by 35% (McKinsey & Company). And, organizations with women in top management showed an increase of $42 million in value (2011 study by the University of Maryland and the University of Florida)."
"Multi-faceted Approach
More than just race and gender – In addition to women and racial minorities, older employees, people with disabilities and people from varying cultures and religions bring a critical diversity of thought that inspires innovation.
Partnerships and acquisitions – Diversity in technology extends beyond the hiring process. Organizations foster diversity and better serve their customers through partnering with minority-owned companies."
Diversity at eMazzanti Technologies
Like many other successful organizations, eMazzanti has benefited from gender diversity in upper management from the very beginning. Co-founder and company president Jennifer Shine (now Jennifer Mazzanti) has contributed her technical and management expertise to guiding the company over the past 16 years.
Serving clients on nearly every continent in varied industries, eMazzanti employs a diverse workforce, from Eastern European immigrants at company headquarters to customer service representatives in Guatemala.
Related resource information:
The History of Women in Technology – Longer Than You Think!
Microsoft Packs Business-Friendly Features into Windows 10 Creators Update
About eMazzanti Technologies
eMazzanti's team of trained, certified IT experts rapidly deliver retail and payment technology, cloud and mobile solutions, multi-site implementations, 24×7 outsourced network management, remote monitoring and support to increase productivity, data security and revenue growth for clients ranging from law firms to high-end global retailers.
eMazzanti has made the Inc. 5000 list seven years running, is a 2015, 2013 and 2012 Microsoft Partner of the Year, 2016 NJ Business of the Year, 5X WatchGuard Partner of the Year and one of the TOP 200 U.S. Microsoft Partners! Contact: 1-866-362-9926, info(at)emazzanti(dot)net or http://www.emazzanti.net Twitter: @emazzanti Facebook: Facebook.com/emazzantitechnologies.