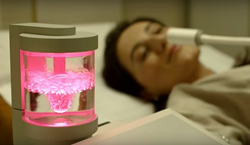 NanoVi is an effective way to help people regenerate, repair and recover. It fits perfectly with our vision of an advanced health center, focused on measuring and improving cellular health.
Kojori, Tbilisi - Georgia (PRWEB) April 20, 2017
BIOLI announces that it is the first health and wellness center in the Caucasus region to introduce NanoVi technology to help clients reduce oxidative stress damage which leads to early-aging and chronic disease. As stated by BIOLI's Dr. Nino Nakashidze, "NanoVi is an effective way to help people regenerate, repair and recover. It fits perfectly with our vision of an advanced health center, focused on measuring and improving cellular health."
BIOLI is a leading medical resort in the Caucasus, which is rapidly emerging as an international destination for wellness seekers: http://www.bioli.ge. People have traveled to the area for the mineral waters and natural hot springs for more than 200 years. Sitting at the crossroads of Europe and Asia, Medical Wellness Resort BIOLI draws discerning spa goers from both the East and West. Far more than just a spa, BIOLI conducts extensive testing for oxidative stress. Nutritionists advise their chefs in order to optimize diet and prevent oxidative stress damage. BIOLI then went a step further by implementing the NanoVi device to repair the oxidative damage that could not be prevented by diet and lifestyle changes alone. Hans Eng, who developed NanoVi technology and founded Eng3 Corporation, appreciates the fit with BIOLI:
"We are honored to have such a well-regarded center offering NanoVi sessions. Their commitment to measureable improvements in cellular health makes BIOLI an ideal setting for the NanoVi™ device. Adoption of NanoVi reflects BIOLI's deep commitment to the wellbeing of their guests. They have stepped ahead of other centers in optimizing health"
The NanoVi device is also used by BIOLI guests to de-stress and unwind. Proven to improve balance of the autonomic nervous system which regulates our bodies rest and digest processes, NanoVi helps people rest more completely at night and feel more energetic during the day. BIOLI's founder, Dr. Tamaz Mchedlidze, with more than 25 years of experience in medicine and the medical spa industry, appreciates the importance of relaxation and rest. "We developed BIOLI in a beautiful mountain location with fresh air and mineral springs to help people have a good rest." The tranquil setting, along with healthy food, exercise and advanced treatments like NanoVi are what makes BIOLI so successful.
About BIOLI: Medical Wellness Resort BIOLI was founded on the principle that every individual should understand how important it is to stay healthy for as long as possible. BIOLI assesses a guest's health status objectively, mainly at the cellular level, with the goal of identifying an individual's relevant stress factors so that cellular health can be restored. In addition to physical activity and nutrition programs, the center offers more than two dozen health treatments that are skillfully combined to address a person's individual needs and preferences. Medical Wellness Resort BIOLI caters to an array of health seekers who stay at the center and enjoy its beautiful surroundings near Tbilisi, Georgia, in the Caucasus region of Eurasia. Tour BIOLI
About Eng3: Eng3 Corporation develops and manufactures NanoVi™ technology. The company is based on the belief that, whenever possible, it is better to initiate the body's own repair mechanisms than to introduce drugs or chemicals that may have unintended consequences. NanoVi devices are used to initiate cellular repair and regeneration in clinics, wellness centers, performance centers, and private homes (see who uses NanoVi). Eng3's approach is called bio-identical signaling because output from the device is identical to the biological signal the body naturally produces to initiate repair and regeneration. The NanoVi device is widely used to address oxidative stress damage. NanoVi technology is patented and validated by university research, including placebo-controlled studies. Eng3 was formed by Hans Eng, a German engineer who relocated to Seattle, Washington, prior to starting the company in 2003.
For more information visit Eng3's Website, Facebook or Linkedin
###