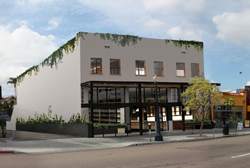 "This 1920's dance hall is getting a fresh new look. We want to keep the integrity of the building and pack it with technology to create a hub of innovation." - Brandon Blum SBMI Group
Vista, CA (PRWEB) May 10, 2017
The 1920s Argyle Club building in the Hillcrest neighborhood of San Diego will be transformed into "The Wall" by the team at Level 3 Construction. This two-story 10,680-square-foot landmark was purchased by SBMI Group for $2.75 million and an additional $1.25 million will be invested towards a value-add renovation.
Brandon Blum of SBMI Group notes, "This 1920's dance hall is getting a fresh new look. We want to keep the integrity of the building and pack it with technology to create a hub of innovation."
The Wall will include creative-office space on the upper level with a shared mezzanine and two lower level tenant spaces; the largest tenant space will be made available to an unknown restaurant tenant. Premium materials will be used for a custom steel and wood front awning, a custom storefront window and front entry door system. A mezzanine deck off the rear elevation will be made available for use by office tenants.
The fresh design will include industrial and modern aesthetics, exposed ceilings, sandblasted brick walls, concrete countertops, glass office partitions, skylights, concrete finish floors and a green living wall. The east wall of the building is reserved for the community's input and will feature an artistic mural reflective of the neighborhood culture.
To learn more about this project and other interesting news about Level3 Construction visit http://www.level3construction.com
About Us
Founded in 2006 by President and CEO Ian Mahon, Level 3 Construction, located in Carlsbad, California, is known for being a leader in hospitality renovation and construction with a growing presence in multifamily, restaurants, office and T.I.'s. Our project experience ranges from small interior renovations and tenant improvements to multi-million dollar ground up hotel and restaurant construction and renovations. Level 3 collaborates with developers, owners, architects and property owners to implement the most efficient and cost-effective solutions that will reinvigorate a property. Level 3 Construction continues to grow its portfolio of work through quality performance and on-time completion of projects. To learn more about Level 3 Construction's services, contact Rebekah May at 760-448-5456 or by email rmay(at)level3construction(dot)com