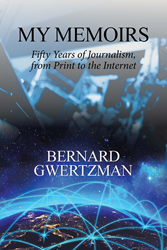 New York (PRWEB) April 17, 2017
A retired New York Times editor has released a memoir about his 50-year career in journalism, which delves into his prominent coverage of the Middle East during the 1970s and his work in Eastern Europe from the late 1960s through the 1980s. In "My Memoirs," Bernard Gwertzman takes readers from his early days writing for afternoon papers to his work leading the New York Times into the uncharted waters of Web journalism.
Hired by the Times in 1968, Gwertzman, an expert on Russia-U.S. relations, spent much of his career covering critical stories such as the collapse of Communism in Eastern Europe, the fall of the Berlin Wall and Henry Kissinger's dealings in the Middle East.
"I grew up loving newspapers in a time when newspapermen were considered heroes," Gwertzman said. "With half a century of journalism under my belt, I'm one of a small crowd who bridges the gap between the physical newspapers of yesteryear and the final frontier of online media."
In today's tumultuous media climate, Gwertzman offers readers a frank and provocative perspective on the Fourth Estate while also providing a wealth of commentary on the critical role of the press.
"My Memoirs"
By Bernard Gwertzman
ISBN: 9781524541088 (hardback); 9781524541071 (paperback); 9781524541064 (electronic)
Available at the Xlibris Online Bookstore, Barnes & Noble and Amazon
About the author
Bernard Gwertzman got his start in journalism as a sportswriter for the New Rochelle Standard-Star. After graduating from Harvard in 1957, he moved on to the Washington Evening Star. Hired by the New York Times in 1968, Gwertzman eventually took the helm of the paper's foreign desk in the early 1990s and guided the paper in its transition to the digital age. He currently resides in New York City. To learn more, please visit http://www.gwertzmansbio.com/.
###
Review Copies & Interview Requests:
LAVIDGE – Phoenix
Danielle Grobmeier
480-998-2600 x 614
dgrobmeier(at)lavidge(dot)com
General Inquiries:
LAVIDGE – Phoenix
Maggie Driver
480-998-2600 x 584
mdriver(at)lavidge(dot)com