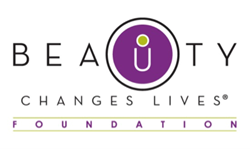 San Diego, CA (PRWEB) April 13, 2017
Six future hairstylists are one step closer to a career in the professional beauty industry thanks to receiving a Vidal Sassoon Professional Beauty Education Basic Scholarship. Generously funded by Wella's Hairdressers at Heart, and administered by the Beauty Changes Lives Foundation, the scholarship honors hairstyling icon Vidal Sassoon's lifelong commitment to professional education, while covering 50% of cosmetology school tuition up to $10,000.
Each winner in the Spring 2017 Basic Scholarship competition submitted a video, addressing how a career in the beauty industry would change not only their life, but the lives of others. Applicants drew on diverse life stories ranging from arriving in the U.S. as a Middle Eastern immigrant to performing in the national Broadway tour of Phantom of the Opera. Following is information about each of the Spring 2017 Vidal Sassoon Professional Beauty Education Basic Scholarship winners:
Joanna Grant (Gastonia, NC) – Student at Aveda Institute, Charlotte
As a Middle East immigrant arriving in America, Joanna felt "uninvited" and resolved to work in a career where she could honor diversity and inspire others to see beauty in all its forms. Her passion for diversity also extends to goals for life after graduating cosmetology school. While Joanna hopes to use her hairdressing knowledge behind the chair and in editorial work, she also dreams of helping young people escape from human trafficking operations.
Mary Rouse (Lexington, KY) – Paul Mitchell the School – Lexington
Mary is inspired by beauty in other people, nature and even sports – especially figure skating. And she has a special affinity for helping brides look their most beautiful on the biggest day of their life. "I want to help people feel confident and worthy, because I know that beauty really does change lives," says Mary.
Hanh Nguyen (Oakland Gardens, NY) – Arrojo Cosmetology School
Hanh has long sought to help people, previously working as a paralegal for a large immigration law firm. Now she wants to use her gift of caring for others to help them feel confident. "I want people to leave my chair with the confidence to get through the day, or even until their next hair appointment," she says.
Deseray Gonock (Phoenix, AZ) – Penrose Academy
Deseray lost her father when she was just 16 but never gave up on her resolution to make him proud. The former interior design student was inspired to enroll in beauty school by her aunt and best friend who loved working as hairstylists. Deseray says she was stubborn about persisting toward her goal of a career behind the chair and feels that she has fulfilled her commitment to make her dad proud.
Grace Morgan (New York, NY) – Arrojo Cosmetology School
Grace grew up knowing she wanted to achieve two careers – actress and hairstylist. Performing on the national Broadway tour of Phantom of the Opera, the musical theater grad says, "half the fun of my role was getting ready with the hairstylists and wig specialists backstage." Grace says a career in hairstyling will complement and enhance her work on stage.
Ashley Williams (Tempe, AZ) – Penrose Academy
Ashley is passionate about defining beauty on her terms. "Beauty is love, family, vulnerability, courage and creativity," she says. Through her scholarship, Ashley wants to continue redefining how beauty is expressed behind and beyond the chair.
"Although these scholarship winners have varied backgrounds, they each share a common value that is characteristic of the industry—helping others look and feel their best," said Lynelle Lynch, President of the Beauty Changes Lives Foundation. "Many of the video applications focused on how Vidal Sassoon's commitment to helping others inspired their career journey, and we're so honored to have the support of Wella's Hairdressers at Heart to fund these NextGen artists' journeys."
Since launching in 2013, the Vidal Sassoon Professional Beauty Education Scholarship has changed the lives of 192 aspiring and licensed hairstylists. The program is administered by the Beauty Changes Lives Foundation, a 501c3 that seeks to elevate, educate and empower the next generation of beauty professionals.
"Education is the cornerstone of excellence in our industry," said Sal Mauceri, Coty Senior Vice President North America Professional Beauty and Global OPI. "Wella's Hairdressers at Heart is pleased to help these six talented hairstylists as they begin this life-changing career in the beauty industry. We're proud to honor Vidal Sassoon's inspiring commitment to education and his legacy of innovation through this namesake scholarship."
Scholarship winners are selected by a panel of award-winning hairstylists, platform artists and educators. Applications are evaluated in three core areas: creativity/innovation, communication and creativity. While professionalism and technical details are important in scoring, judges focus on each applicant's passion for the industry and vision for how their career in beauty will change lives.
###
About the Beauty Changes Lives Foundation: About the Beauty Changes Lives Foundation With a mission to elevate, educate and empower, Beauty Changes Lives is uniting the industry and building awareness of the extraordinary career opportunities in the beauty, wellness and massage therapy industries. Learn more at http://www.beautychangeslives.org or find us on Facebook.
About Hairdressers At Heart: Stylists are committed to being the best, perfecting their craft with every cut. Wella is here to advance the salon industry, one stylist at a time. Hairdressers At Heart is a program created to help stylists develop their talents throughout their career. Our goal is to be a vital partner to salons, empowering individual stylists and our entire industry. For more information: http://www.hairdressersatheart.com/
About Coty Inc.: Coty is one of the world's largest beauty companies with approximately $9 billion in revenue, with a purpose to celebrate and liberate the diversity of consumers' beauty. Its strong entrepreneurial heritage has created an iconic portfolio of leading beauty brands. Coty is the global leader in fragrance, a strong number two in professional salon hair color & styling, and number three in color cosmetics. Coty operates three divisions – Coty Consumer Beauty, which is focused on color cosmetics, retail hair coloring and styling products, body care and mass fragrances sold primarily in the mass retail channels with brands such as COVERGIRL, Max Factor and Rimmel; Coty Luxury, which is focused on prestige fragrances and skincare with brands such as Calvin Klein, Marc Jacobs, Hugo Boss, Gucci and philosophy; and Coty Professional Beauty, which is focused on servicing salon owners and professionals in both hair and nail, with brands such as Wella Professionals, Sebastian Professional, OPI and ghd. Coty has approximately 20,000 colleagues globally and its products are sold in over 130 countries. Coty and its brands are committed to a range of social causes as well as seeking to minimize its impact on the environment.
For additional information about Coty Inc., please visit http://www.coty.com/.
About Sassoon Academy: Sassoon Academy offers its celebrated, industry-leading philosophy and courses worldwide through its renowned Academies, and instructional DVDs and books. All classes are developed and designed to be contemporary, relevant and forward thinking and are delivered with passion, commitment and technical excellence. The aim is to share the knowledge that is gained in the development of our craft and ensure that our students gain real commercial skills from our courses, as well as take away a piece of the culture that created Sassoon. To learn more about Sassoon Academy, visit http://www.sassoon.com or follow us on Facebook: facebook.com/SassoonAcademy, Twitter: twitter.com/SassoonAcademy and Instagram: @sassoonacademyofficial