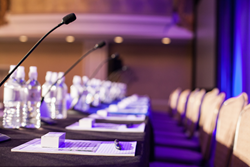 Philadelphia, PA (PRWEB) April 14, 2017
Perrin Conferences' annual Emerging Insurance Coverage & Allocation Issues Conference is set for May 11, 2017, at The Westin Philadelphia. This conference will feature a large contingent of leading in-house counsel and insurance company executives representing some of the industry's most iconic brands.
Engaging in panel discussions with attorneys and industry experts, these high-level participants will share their insights and ideas on compelling litigation trends shaping the insurance industry and legal sector. In-house counsel and insurance company executives speaking at the conference come from companies such as Tristar Risk Management, AIG, Resolute Management, Inc., Selective Insurance Company, Berkley Cyber Risk Solutions, Marriott International, YorkPro, Selective Insurance Company of America, Crum & Forster, XL Catlin and many others.
The conference is designed to enhance the dialogue between all parties affected by insurance coverage litigation. Some of the topics to be discussed include Cutting Edge Trends in Allocation Issues, Priority of Coverage – How to Determine Which Policies Apply and in What Order, Emerging Risks & Insurance Issues in 2017 Coverage Litigation, Cyber Insurance – Assessment of the Risk and Analysis of Available Coverages, Demands – Duty to Settle Within Policy Limits; The In-House Counsel and Insurance Perspectives Roundtable and The Right to Independent Counsel – Who do they Represent and What are the Ethical Obligations. In addition to offering CLE accreditation, this conference offers attendees an exclusive information exchange and networking opportunity in an environment of collaboration and learning.
For more information, registration and hotel accommodations, please visit http://www.PerrinConferences.com.
About Perrin Conferences
As the leading national provider of joint plaintiff/defendant litigation conferences, Perrin Conferences offers comprehensive and specialized continuing legal education (CE/CLE) in an atmosphere of learning, networking and sharing. The company's conferences attract influential leaders and foremost talent in the legal industry to discuss current topics in litigation through mock trials, presentations and webinars, setting the standard in professional litigation education and networking.
# # #
Contact:
Bethany Corio
Perrin Conferences
T. 610-220-1817
bcorio(at)perrinconferences(dot)com
http://www.perrinconferences.com