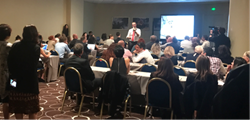 GYEONGGI-DO, KOREA (PRWEB) April 14, 2017
Lutronic, a leading innovator of aesthetic laser and energy-based technology, announced today the successful events during two major international shows featuring the latest emerging Lutronic aesthetic technology in the booth and symposiums at Aesthetic & Anti-aging Medicine World Congress (AMWC) annual, Monaco, and at the American Society for Laser Medicine and Surgery (ASLMS), United States. "As we achieve our 20th year in business we are very excited about the turn out for our multi-venue events," said Haelyung Hwang, CEO Lutronic, "These educational symposiums are the cornerstone for presenting our new technology, and the high attendance is a direct symbol of our continued expansion in the US and European regions."
In Monaco, to a standing room only crowd, our global panel discussed the latest clinical findings; Eric Sarfati, MD, France, R. Glen Calderhead, Phd., Korea, and Matteo T. Clementoni, MD, Italy. Dr. Sarfati shared his latest clinical findings using the easy to use enCurve* for non-touch circumferential reduction; this non-invasive device allows the user to maximize outcomes for outstanding results. He shared the latest clinical findings that demonstrate impressive reductions to the abdomen and flanks. While Dr. Calderhead discussed how the advanced Picoplus* provides the user power and versatility for advanced treatments and mastery over difficult cases, showing how the combination of pulse, power, and wavelengths are critical for treating larger range of difficult cases. Finally Dr. Clementoni provided updates on Infini, a High Intensity Focused RF device for skin tightening and laxity, discussing his latest cases and results using this industry-leading device.
While half a world away, in San Diego California, USA, another renowned panel from the US which included Gilly Munavalli, MD, Melanie Palm, MD, and Jason Pozner, MD, who discussed their latest clinical experience to another packed room. Dr. Palm discussed Spectra's advanced applications including some difficult to treat cases of melasma, PIH and more. Sharing the latest clinical findings using Infini gen 1.2 was Dr. Pozner who discussed some of the pioneer treatments and their results. Lastly, Dr. Munavalli discussed Clarity's ease in treating multiple applications and announced LaseMD, the newest edition to the US family, an advanced thulium non-ablative lasers recently submitted for clearance to the US FDA.
Both shows featured booths at their respective events that received a steady stream of visitors interested in learning about these and other Lutronic devices. In addition during AMWC, key opinion leaders shared their candid experience during one-on-one filmed interviews, which will be released next month.
The increased attendance and attention at these two critical global aesthetic events shows Lutronic's continued growth in Europe and the US that are two key markets, and is a direct result to their ongoing commitment to the clinical efficacy of all their devices.
About PICOPLUS*
The Picoplus platform offers both pico- and nanosecond modes with the performance of four wavelengths (1064, 532, 595 and 660 nm) to provide you with more options than ever before to address everything from standard treatments, to those hard to treat cases resistant to other Nd:YAG approaches. This CE marked device delivers the customized power, pulse-width, wavelength and fluence you need for the outstanding outcomes your patients want, all from one premium platform.
About enCurve*
EnCurve utilizes a specialized frequency (27.12 MHz) to selectively target and heat adipocytes in order to cause denaturation of cells, leading to the programmed death of the targeted adipocytes. This CE marked device has smart features such as, Personalized Impedance Synchronization Application (PISA) and Air Mode, enCurve is the easy and comfortable way to reduce adipocytes through apoptosis-inducing radiofrequency.
About LASEMD
Lasemd is a winning combination of technology and science to provide fast and safe treatments. This cutting edge, design forward, non-ablative thulium laser combines best in class performance that looks as good as it performs. Pending FDA clearance, this CE marked device is already making waves across Europe and Asia as a top performing system for skin rejuvenation and pigment. It's variety of complimentary and specially developed highly pure ampoules ensure that treatments are maximized.
About INFINI gen 1.2
Infini's proven design delivers improved wrinkle reduction through High Intensity Focused RF which provides 3-dimensional energy delivery to volumize tissue and deliver improved outcomes. Now with greater energy homogenization delivered via insulated gold-coated microneedles Infini creates precise and controllable fractionated coagulation zones within a specific layer of dermis. This FDA cleared and CE marked device has adjustable depth control allows for customized and reproducible treatments of delicate areas and is safe on all skin types.
About CLARITY
Clarity is one of the most versatile dual-wavelength platforms on the market, with multiple indications for top aesthetic laser physicians worldwide. This FDA cleared and CE marked device boasts two workhorse wavelengths, 755 nm Alexandrite and long-pulsed 1064 nm Nd:YAG, in one easy-to-use device, physicians may gently remove pigmented lesions, unwanted hair and ameliorate the appearance of vascular lesions.
About LUTRONIC
Lutronic, a leading innovator in advanced aesthetic and medical laser and related technology, was established over 20 years ago to bring intuitive, robust, versatile devices that are affordable and efficacious to the worldwide medical community. Committed to improving medicine, Lutronic partners with key opinion leaders to advance science and ensure the efficacy of its systems. All systems are versatile and offer multiple setting and treatment options for customized treatments, which optimize outcomes for a wide variety of conditions and treatments including melasma, tattoo removal, soft tissue incision, vascular lesions, hair removal, wrinkle reduction, rejuvenation, body/face contouring, chronic pain, healing and more.
With a focus on physician needs and patient outcomes, Lutronic dedicates time and funding toward the development of devices that offer features and improvements not found in today's market. Devoting more than 20% of revenues to R&D, Lutronic holds more than 200 current and pending patents worldwide. With more than 270 employees worldwide, Lutronic has offices in the US, Korea, China, and Japan, a world-wide network of distributors, focused R&D centers in Korea, and is ever expanding.
*Picoplus and enCurve do not have FDA clearance and are not available for sale in the United States.