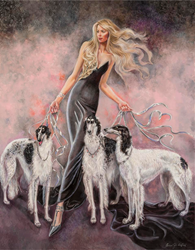 I am inspired by the natural grace inherent in our animal companions and seek to portray the elegant bond between human and animal.
Washington, D.C. (PRWEB) April 17, 2017
Barbara Tyler Ahlfield, one of America's award-winning and leading female fashion illustrators, debuts a major new series of paintings entitled "Mood" at Artexpo New York, 2017. "Mood" is Barbara's fourth show in an important series of fashion-themed shows uniting 35 years of experience in fashion illustration with contemporary fine art and portraiture.
Barbara's full-page fashion illustrations for America's leading department stores appeared in newspapers like the New York Times, Chicago Sun Times, Philadelphia Enquirer, Washington Post, Dallas Morning News, Baltimore Sun and many others. These full-page illustrations were the American woman's first look at breaking new fashion while building store image and boosting sales for the department stores. Barbara's work appeared steadily in the newspapers during the seventies, eighties and nineties and then in high-end designer catalogs throughout the 2000-2012 time frame and debuted multiple signature styles. Her work evolved with the development and execution of several diverse looks culminating with a recognizable signature style combining loose ink line with detailed pencil rendering. Additionally, Barbara was the first fashion illustrator in the country to specialize in reflective, full-color newspaper advertising art.
"Mood", a contemporary oil collection of twelve large paintings, blends the fashion illustration elements of figure elongation, dramatic posing and apparel enhancement. The addition of pets to several of the pieces in the collection adds a surprising yet perfectly compatible subject matter to the mix. Barbara says she is "inspired by the natural grace inherent in our animal companions and seeks to portray the special and elegant bond between human and animal". Barbara cites the "undeniable nexus between fashionable people and their pets and how the two tend to mirror each other in pose, gait and style." "Mood" is a crossroads for all of these elements in one new dramatic show unlike any seen in the contemporary art world today. The collection can be viewed at booth #349 at Artexpo New York, 2017 on April 21st-24th at Pier 94, 711 12th Ave., New York, New York 10019.
About Barbara Tyler Ahlfield
For more information on Barbara Tyler Ahlfield and her illustrations, please visit: http://www.barbaratylerahlfield.com.
Barbara started drawing at the age of two and was soon decorating her bedroom walls with crayon fashion drawings. As a child, she was fascinated with the glamorous fashion she saw in vintage black and white films on Television as well as the formal portraits she studied during children's classes at the Rochester Memorial Art Gallery. Following college, she united her loves of art and fashion into a career that spanned 30 years as one of the leading, female American award winning retail fashion illustrators in the United States.
The archive of Barbara's illustrations is one of the few existing collections of American fashion illustration over the last quarter century and offers a retrospective of the American woman's changing sense of style as well as changing illustrative styles. Her full-page illustrations appeared in many of the major newspapers in the country such as The New York Times, Chicago Sun Times, Washington Post, Philadelphia Inquirer, etc. Barbara's work showcased top American fashion designers for the major US department stores such as Lord and Taylor, Nordstrom, Dillards, John Wannamaker and many more.
In 2014, Barbara was featured as one of "The Top 50 Emerging International Artists" in Art Business News for her recent fashion oil paintings and transition to fine art. She will be exhibiting as a new Gallery at Art Expo New York 2017 showcasing her major new series of Fashionable People & Fashionable Pets in her newest collection, Mood.