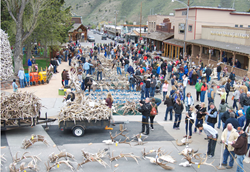 Most proceeds from the auction – which last year topped $175,000 – are dedicated for habitat enhancement projects on the nearby National Elk Refuge.
Jackson Hole, Wyoming (PRWEB) April 17, 2017
May in Jackson Hole, famously known as the "last of the Old West," celebrates that reputation with two weeks of action-packed, nature-loving and Wild West events. Elkfest, May 20 – 21, 2017, and Old West Days, May 26 – 29, are both loaded with family-friendly activities taking place in various locations from the famous Jackson, Wyoming, Town Square to the local fairgrounds. And this year's Elkfest celebrates a major anniversary with the 50th Boy Scout Elk Antlers Auction transforming downtown streets with mounds of naturally shed antlers for sale to visitors from around the world.
The Boy Scout Elk Antler Auction is the centerpiece of the annual Elkfest. Wagonloads of elk antlers line the streets of Jackson for bidding at an exciting live auction, Saturday, May 20, with local troops typically gathering more than 10,000 pounds of elk antlers and showcasing their findings for collectors and artisans, who craft them into a variety of fine and functional art.
Most proceeds from the auction – which last year topped $175,000 – are dedicated for habitat enhancement projects on the nearby National Elk Refuge, with the remainder going to the Jackson District Boy Scouts in recognition of the extraordinary effort required to pull off such a large event.
On Sunday, May 21, Elkfest-goers can bring their appetites to Town Square for the popular High Noon Chili Cook-Off, where attendees have the opportunity to sample the hot stuff from a variety of local chefs and organizations – then cast a vote for the coveted People's Choice award.
Beginning Elkfest weekend and continuing through the end of Old West Days, the Mountain Man Rendezvous and Traders Row at the Teton Fairgrounds entertains crowds with bow and arrow competitions and hawk-and-knife rivalries between costumed mountain men. Historically-inspired Western crafts are on sale with food and drinks, turning the fairgrounds into a unique taste-of-the-Old West experience.
On Friday, May 26, an evening at the Bar J Chuckwagon kicks off Old West Days with a hearty Western-style meal and one-of-a kind cowboy entertainment from the performers whose incredible singing voices and comedic storytelling skills make for an unforgettable evening. The Old West Days parade – one of the West's rare remaining horse-drawn parades – winds through town on Saturday morning followed by kids' crafts and live Western music on the town's famous elk antler-framed square. Also following the parade on Saturday, craft beer fans can raise a glass at the Old West Brew Fest. Brew masters from all over the region come together on Jackson Town Square to offer attendees samples of their finest beers in hopes of earning the "Golden Boot Award" from voters.
Conveniently located just 20 minutes from the Jackson Hole Airport, Jackson, Wyo., is served by major airlines including Delta, United, American and SkyWest. Reservation information for Jackson's numerous hotels and schedules for events and activities year-round may be found at http://www.jacksonholechamber.com. For a full calendar of Elkfest and Old West Days events visit http://www.jacksonholechamber.com/events/ or contact Maureen Murphy at Jackson Hole Chamber, 307.733.3316.
Contact: Amy Stark, Word PR + Marketing, amy(at)wordprmarketing(dot)com, 307.734.5335