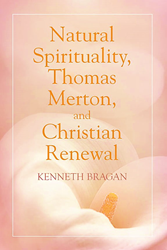 "For those interested in contemporary conversations about super modernity, scientific mysticism, and 21st-century Christian ontology, 'Natural Spirituality' is a necessary interlocutor in this developing cannon." - Charles Asher
(PRWEB) April 18, 2017
Kenneth Bragan's previous book, "The Rising Importance of Thomas Merton's Spiritual Legacy." has been called a powerful and compelling meditation on 21st-century spirituality and mysticism.
In his new book, "Natural Spirituality, Thomas Merton, and Christian Renewal," the merging of neuroscience-based natural spirituality with Merton's spiritual legacy could well create big changes in the religious world, bringing with it increased interest in spirituality as well as the hope of Christian renewal. Bragan uses neuroscience to place Merton's spirituality in the context of natural spirituality, using it to open the door to a new direction for Christian revitalization. He says, "Neuroscience may be offering a new and revitalizing understanding of the basis of Christian faith, particularly belief in the healing power of the risen Christ."
Charles Asher of PBK Reviews writes that the author's newest book offers "intellectual precision and a breadth of knowledge into essential issues" of our times. He adds, "Drawing from the fields of theology, neuroscience, epistemology, and psychoanalysis, Mr. Bragan analyzes Merton's oeuvre with a postmodern, interdisciplinary system that, through its dialectical web, gives birth to a super modernist thesis – that of the ongoing (and necessary) renewal of mysticism and spirituality in an age bankrupt of substantial determinants. "Natural Spirituality" continues Mr. Bragan's project of bringing Thomas Merton's intellectual and religious contributions to public attention while, furthermore, establishing his own unique system of inquiry and the profound (and instructive) fruits of this labor. For those interested in contemporary conversations about super modernity, scientific mysticism, and 21st-century Christian ontology, "Natural Spirituality" is a necessary interlocutor in this developing cannon."
The book's publisher, Robert Fletcher, CEO of Strategic Book Publishing and Rights Agency, says, "This captivating and insightful book on spirituality could well define the future path of Christianity. We are pleased to announce its release."
About the Author: Kenneth Bragan grew up in a small coal mining town in the north of England, obtained a medical degree at Edinburgh University, and now resides in the Lakes District of the South Island of New Zealand. He practiced psychiatry for many years and developed an interest in the healing power of writing.
NATURAL SPIRITUALITY, THOMAS MERTON, AND CHRISTIAN RENEWAL (ISBN: 978-1-68181-698-2) is now available for $10.95 and can be ordered through the publisher's website:
http://sbpra.com/KennethBragan or at Amazon.com or Barnesandnoble.com.
WHOLESALERS: This book is distributed by Ingram Books and other wholesale distributors. Contact your representative with the ISBN for purchase. Wholesale purchase for retailers, universities, libraries, and other organizations is also available through the publisher; please email bookorder@sbpra.net.