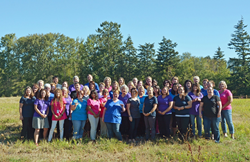 "Signature Home Health is well-positioned to produce spectacular outcomes and lead the way in telehealth best practices for the region." - Jarrett Bauer CEO of HRS
Bellingham, WA (PRWEB) April 18, 2017
Bellingham's top home health agency partners with industry leader Health Recovery Solutions to launch patient engagement and telemonitoring software to reduce readmissions and improve healthcare quality.
Signature Home Health Bellingham, part of the Avamere Family of Companies, is the first provider in Washington to partner with Health Recovery Solutions to reduce readmissions and improve quality of care. Known for quality patient care, Signature Home Health Bellingham serves patients in Whatcom County in skilled nursing, therapy, and social services.
National telehealth leader Health Recovery Solutions (HRS) offers software that addresses the primary drivers of hospital readmissions and ER visits, including medication noncompliance, low health literacy, and lack of communication with clinicians and caregivers.
With a suite of Bluetooth devices and a 4G tablet, patients are empowered to take charge of their health with the support of the telehealth team at Signature Home Health. Patients can monitor a range of biometric values including blood pressure, weight, oxygen level, blood glucose, and answer daily symptom questions specific to their disease condition. All data captured through the devices automatically and securely transmit back to the clinical team within seconds, allowing for real-time interventions for high-risk patients.
With the HRS platform, Signature Home Health is aiming to reduce all-cause hospital readmissions and increase access to home-based care for patients. "We are excited to offer telehealth as a tool to help patients stay in their homes," says Janet Wright, Administrator for Signature Home Health.
Jarrett Bauer, CEO of HRS adds, "As the first organization in Washington state using HRS' patient engagement software, Signature Home Health is well-positioned to produce spectacular outcomes and lead the way in telehealth best practices for the region."
For more information on Signature Home Health's telehealth program, call Sherri Cope, RN, Clinical Liaison, at (360) 820-2459 or visit https://www.4signatureservice.com/bellingham.
For information on HRS, call (347)699-6HRS or visit http://www.healthrecoverysolutions.com.