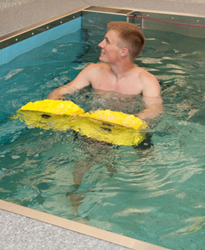 Middletown, PA (PRWEB) April 17, 2017
As any athlete who regularly throws objects overhead realizes, the elbow plays an essential role in the success of these endeavors. However, repetitive stress or trauma on any connective tissue can and does take a toll on high school, collegiate, professional and recreational players. Specifically, the ulnar collateral ligament (UCL) is a sensitive region of the arm and is susceptible to injury and surgical interventions.
Although land-based physical therapy has long been utilized to enhance the outcomes of UCL surgery, often called Tommy John Surgery (TJS), many athletic trainers and physical therapists are treating athletes using aquatic therapy in advanced therapy pools as well. TJS has reported success rates of around 87 percent, but requires creative, knowledgeable intervention at the rehabilitation level to maintain athletes' overall and future health.
Common Issues Surrounding Ulnar Collateral Ligament Issues
Baseball pitchers tend to be the most commonly addressed populations when discussing UCL issues and resulting TJS, yet they aren't the only athletes who deal with this condition. It's also frequent among gymnasts, javelin throwers,ice hockey players and racquet sports players. Still, most research has concentrated on studying baseball players due to available statistics. For instance, in studies of Major League Basement (MLB), minor league baseball and high school baseball information, several interesting facts on UCL injury emerged:

Pitchers with faster fastball velocities were more likely to get UCL injuries.
Pitchers were more likely to experience UCL problems during the first three months of the seasons.
Relief pitchers are more likely to see UCL injuries tears than starter pitchers are.
About 20-25 percent of TJS events are experienced by minor league baseball players.
About 60 percent of TJS events are experienced by college or high school baseball athletes.
Concerns with the UCL tend to be associated with overuse and improper biomechanics in all age groups such as during the arm cocking phase of pitching, which is the third phase (between stride and arm acceleration) according to The American Sports Medicine Institute. Trauma may include a tear or even an elbow break, and symptoms generally include pain on the inside of the arm, soreness or swelling around the elbow, and elbow/arm tingling or numbness.
When TJS is prescribed, rehab is typically done to strengthen the muscles, improve range of motion, and correct biomechanics. This is where innovative aquatic therapy can play a huge, statistically valuable role.
Webinar Discusses Aquatic Therapy for TJS Patients
With MLB UCL reconstructions increasing year after year, athletic trainers and physical therapists need ways to keep players healthy and get them back to sport faster. On April 20, 2017, from 1:00-2:00 p.m. E.D.T., Jeremy Braziel will offer a free HydroWorx webinar to discuss "Utilizing Aquatic Therapy for UCL Injury Rehabilitation."
Braziel is a Certified Athletic Trainer at the Shoulder Center of Arkansas, Fayetteville, and previously served at the University of Arkansas as an Assistant Athletic Trainer. He is a Titleist Performance Institute Certified golf fitness Instructor and holds a wide range of certifications, including his ATC, LAT, FMS, SFMA and CES.
During "Utilizing Aquatic Therapy for UCL Injury Rehabilitation," Braziel will explore and explain several topics, including how physical therapists and athletic trainers can effectively integrate aquatic therapies into UCL injury rehab protocols. During the presentation, he will review UCL contributing factors, symptoms and diagnosis, as well as provide specific and practical exercise strategies.
All participants will leave the webinar with a greater understanding of how to effectively and safely bridge the gap between rehab and return to sport. At the end of "Utilizing Aquatic Therapy for UCL Injury Rehabilitation," participants will have the opportunity to ask questions about the topic.
This webinar is intended specifically for athletic trainers, although anyone is welcome to attend with pre-registration at the HydroWorx website. BOC athletic trainers may earn one (1) Continuing Education Unit (CEU) for watching the live webinar in its entirety.
About HydroWorx
Since the late 1990s, HydroWorx has manufactured aquatic therapy products with integrated underwater treadmills to enable rehabilitation professionals to more effectively offer their patients the opportunity to increase range of motion, decrease risk of falls and joint stress, and remain motivated through the rehab process.
Products such as the HydroWorx 2000 and 500 Series therapy products along with the new HydroWorx 300 system have revolutionized the face of aquatic therapy; in fact, HydroWorx technology is used by world-class facilities such as OrthoCarolina, Cleveland Clinic, Kennedy Krieger Institute, Genesis Healthcare, Neuroworx, Clear Choice Healthcare, PruittHealth, Premier Rehab, Leg Up Farm and many other healthcare facilities across the country.
HydroWorx offers a wide range of underwater treadmill pools and peripheral products and services. Every day, more than 34,000 athletes and patients use HydroWorx technology to recover from injuries and health conditions.
More information about HydroWorx can be found at http://www.HydroWorx.com.