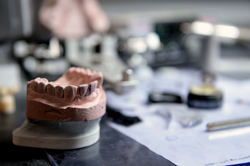 ...this study is an important reminder that mesothelioma risk can sometimes be found in unexpected places,
Raleigh, NC (PRWEB) April 18, 2017
The authors of a new study on malignant mesothelioma in the dental industry say dental technicians are at increased risk for the asbestos cancer because of materials used in the manufacture of dental prosthetics. Surviving Mesothelioma has the full story. Click here to read it now.
Experts in environmental science and occupational health conducted an analysis of more than 5,000 French pleural mesothelioma patients between 2000 and 2014. They found four whose only exposure to asbestos was in their work as dental technicians.
"Three men had been working as dental laboratory technicians, with asbestos exposure for 10, 34, and 4 years, and one woman had been helping her husband for 30 years in manufacturing dental prostheses," writes study author Carolina Mensi, BSc, PhD, with the Department of Preventive Medicine at Fondazione IRCCS Ca' Granda-Ospedale Maggiore Policlinico.
The article in the American Journal of Industrial Medicine, suggests that dental technicians believed to have mesothelioma should be questioned about their post occupational asbestos exposure.
"Dental technician is not one of the professions we typically associate with asbestos exposure or mesothelioma but this study is an important reminder that mesothelioma risk can sometimes be found in unexpected places," says Surviving Mesothelioma Managing Editor, Alex Strauss.
To read more details of the French study and learn more about where asbestos was used in the dental industry, see Dental Technicians May Be at Increased Risk for Malignant Mesothelioma, now available on the Surviving Mesothelioma website.
Mensi, C, et al, "Pleural malignant mesothelioma in dental laboratory technicians: A case series", April 13, 2017, American Journal of Industrial Medicine, Epub ahead of print, http://onlinelibrary.wiley.com/doi/10.1002/ajim.22716/abstract
For more than a decade, Surviving Mesothelioma has brought readers the most important and ground-breaking news on the causes, diagnosis and treatment of mesothelioma. All Surviving Mesothelioma news is gathered and reported directly from the peer-reviewed medical literature. Written for patients and their loved ones, Surviving Mesothelioma news helps families make more informed decisions.