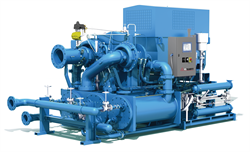 Export, Pennsylvania (PRWEB) April 18, 2017
FS-Elliott, a leading manufacturer of oil-free, centrifugal compressors, will exhibit at Reliable Plant Conference and Exhibition held April 25-27, 2017 in Columbus, Ohio. This year's event will include more than 100,000 square feet of exhibit space and over 90+ learning sessions aimed at covering every facet of industrial lubrication, oil analysis, and equipment reliability over the course of three days.
At FS-Elliott booth 810, visitors will have an opportunity to experience the operation of a centrifugal compressor on the exposition floor. Demonstrations will feature FS-Elliott's P600+ compressor, allowing participants to see a 360-degree virtual view of the equipment in operation. Industrial compressed air experts will be on hand to share best practices for compressed air system operation and discuss how to calculate compressed air costs with FS-Elliott's AirCompare compressor life-cycle calculator.
For those interested in learning how to optimize their compressor room, Sue Benes, Polaris+ Product Marketing Manager will be presenting an educational session "How to Make Your Compressor Room Work for You" on Wednesday, April 26. With over 20 years of experience in manufacturing, Sue focuses on educating customers on their compressor life-cycle costs to maximize efficiencies throughout their plant. Her session at Reliable Plant 2017 will take attendees through a real-world situation where a manufacturer improved the efficiency of their compressor room. Maintenance and reliability professionals will walk away with a thorough understanding of how they can improve their compressor rooms, which in turn will allow them more time to dedicate to other areas of their plant.
To learn more about FS-Elliott's presence at Reliable Plant and for a complimentary registration pass, please visit http://www.fs-elliott.com/reliable-plant-2017.
About FS-Elliott Co., LLC
FS-Elliott is a global leader in the engineering and manufacturing of oil-free, centrifugal compressors with operations in over 90 countries. Building on a 50-year tradition of excellence, FS-Elliott combines an unwavering commitment to quality with the desire for advancing technology to bring value to our customers, allowing them to increase their productivity and lower system operating costs. For more information, please visit http://www.fs-elliott.com.