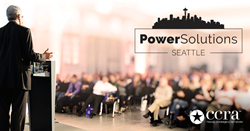 "2017 has proven to be a great year for travel agents to get up, get out, and make the connections they need to take their business to the next level. -Margie Jordan, VP Membership, CCRA
Seattle, Washington (PRWEB) April 18, 2017
CCRA's premier networking and travel agent education event, PowerSolutions LIVE, will be making its first stop on the West Coast on May 8th at the Sheraton Seattle Hotel from 4:30 – 8:30 PM. PowerSolutions LIVE Seattle will focus on providing area travel agents with the necessary tools to successfully grow their travel businesses through educational sessions and supplier networking opportunities.
The event will feature Richard Earls, Publisher with Travel Research Online (TRO), as the keynote speaker and he will be discussing, "Harnessing the Power of a Professional Web Presence." This lines up with CCRA's newest product, TRUESites, a user-friendly and intuitive website builder and social media managing platform, which was created in collaboration with Voyager Websites.
Margie Jordan, CCRA's VP of Membership will also be present at PowerSolutions LIVE Seattle delivering an additional keynote on, "Leveraging the Power of Facebook to Sell More Travel," where she will be discussing tactics travel agents can use to grow their online presence and win more business online.
"2017 has proven to be a great year for travel agents to get up, get out, and make the connections they need to take their business to the next level. We hope to contribute to this by having a diverse mix of suppliers represented at PowerSolutions LIVE and providing some great resources when it comes to social media education," says Jordan.
PowerSolutions LIVE Seattle will draw in a wide range of suppliers from all over the travel industry including travel insurance, transportation, ground transportation, airlines, hotels, tourism boards, consolidators and more. Agents in attendance will be able to network with suppliers and other travel professionals in a tradeshow-style
atmosphere while enjoying complimentary food and drinks. To finish out the event CCRA and the suppliers in attendance will be raffling off several prizes to travel agents in attendance.
Featured Suppliers:
Allianz Global Assistance
Carey International
Emirates
Stay Pineapple Boutique Hotels
Visit St. Petersburg Clearwater Florida
Morgans Hotel Group
Visit Israel
Posadas
Sky Bird Travel & Tours
Pan Pacific Hotels & Resorts
Engage Hospitality
Wyndham Hotel Group
Vistana Villa Resort
IHG
PowerSolutions Live is free for CCRA Members to attend. For those who wish to preview CCRA Membership, a $25 fee will be charged per ticket to ensure attendance. Upon joining CCRA, $25 will be credited back as a membership discount. Travel agents of all experience levels are welcome and encouraged to attend
PowerSolutions Live Seattle.
To read more about PowerSolutions Live in Seattle on May 8th, and to register please visit the Event
Registration Page
To see upcoming PowerSolutions Live Events in 2017, please visit the Events Calendar