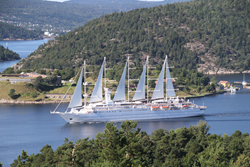 Seattle, WA (PRWEB) April 18, 2017
"Never have I ever heard the visceral roar of the Monaco Grand Prix from premier grandstand seats, or mingled with the 'glitterati' of Monte Carlo before retiring to my yacht. Never have I ever watched a live Russian ballet performance actually in Russia. Never have I ever chased shots of ouzo with plates of mezes in Greece, paired with an epic cerulean sky. Never have I ever taken an intimate, small-ship cruise that brings me to the best, most exclusive, and off-the-beaten-path locations in all of Europe."
Today, Windstar Cruises announces its new "Have You Ever" campaign focusing on a Europe 2017 summer sale, aimed at turning these "never have I evers" into "yes, I haves" with prices from $1,299 per guest. More than 20 voyages in Northern Europe, Italy, Greece, and the Mediterranean are included in the sale.
Windstar simply does Europe differently than other cruise lines. In addition to the unique itineraries, the ships are so small, they actually engage in picturesque cruising along Europe's most scenic shorelines (like the stunning Stockholm Archipelago). More time in port means more time to explore local culture and cuisines, and Windstar's small-group shore excursions give guests a more authentic Europe experience, one that connects them in meaningful ways with the people and cultures they encounter.
A sampling of Windstar European shore excursions include:

Ephesus and Private Lunch in Sirince Village (Kusadasi, Turkey) – Cruisers explore the ruined city of ancient Ephesus, a UNESCO World Heritage Site, from the glorious Celsus Library façade and Temple of Hadrian to the newly excavated "Terrace Houses." This shore excursion is complimentary on all Treasures of the Greek Isles voyages.
Dinner at a Local Family Village Home (Dubrovnik, Croatia) – Travelers head to the fertile Konavle Valley where their gracious host and chef prepares local specialties. Available on Venetian Passageways, Quintessential Croatia, Marvels of the Croatian Coast & Greece, and Classic Italy & Dalmatian Coast.
Kayak in the Finnish Archipelago (Helsinki, Finland) – Participants tour the sights of Helsinki before paddling their own sea kayak through the scenic and wildlife-rich Finnish Archipelago on Baltic Delights.
Mountains & Fjords (Alesund, Norway) – Guests climb the famous Trolls Road with its exhilarating hairpin bends, pausing to admire the incredible mountains, gorges, and waterfalls along the way on Lands of the Midnight Sun.
Of course, no trip to Europe would be complete without dining like a European, and on Windstar, every effort is placed upon using fresh, local ingredients, with the cruise line recently becoming the official cruise line of the venerable James Beard Foundation. With fresh gravlax while sailing through Norwegian fjords, local cheeses in France (paired with amazing wines), osso bucco in Italy, or souvlaki in Greece, these "Have You Ever" gastronomic questions can all be answered with a resounding, "Mmmm, yes, I have" after joining Windstar in Europe.
Rates for Windstar European summer sailings start at $1,299 per person, double occupancy including "Have You Ever" inspired journeys such as the following:
Glitter & Glam of the Rivieras – on the voyage from Barcelona to Rome (or reverse), this glamorous sailing stops along the French and Italian Rivieras, including Port Vendres, Sanary-Sur-Mer, Monte Carlo, Cannes, Portofino, and Portoferraio. There are 12 sail dates to choose from, starting at $1,299 per person.
Gaelic Explorers – traveling from Edinburgh to Dublin (or reverse), this unique Windstar itinerary heads from the hills to the highlands, with port in Isle of Man, Portrush, Tobermory (Isle of Mull), Portree, Kirkwall, and Invergordon. There are six sail dates to choose from, starting at $2,499 per person.
For a full listing of "Have You Ever" Europe sale voyages, visit http://bit.ly/HaveYouEverCruise.
For additional information on small ship cruising with Windstar, contact a travel professional or Windstar Cruises by phone at 877-958-7718, or visit http://www.windstarcruises.com.