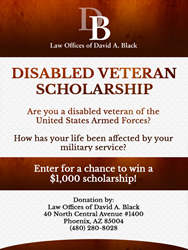 Phoenix, Arizona (PRWEB) April 24, 2017
Phoenix criminal defense lawyer David A. Black and his law firm, the Law Offices of David A. Black, have announced a scholarship for the benefit of disabled veterans who are interested in furthering their education. The scholarship is in the amount of $1,000, and it will be applied toward tuition at the educational institution chosen by the successful applicant.
After serving their country in the United States Armed Forces, disabled veterans face numerous challenges as they return to civilian life. Mr. Black believes that in offering this scholarship, it will assist in furthering the educational and career goals of the disabled veteran chosen as the recipient.
Anyone wishing to apply for the scholarship, or to learn more about it, should visit the firm's website. Applicants need not be currently enrolled in school in order to qualify. The educational institution chosen may be a university or college (including junior college), or a trade or vocational school. The deadline for the application is February 15, 2018.
Questions concerning the scholarship, including the application process, should be directed, by email if possible, to:
Law Offices of David A. Black
40 North Central Avenue, Suite 1400
Phoenix, Arizona 85004
480-280-8028
email michael(at)dbphoenixcriminallawyer(dot)com