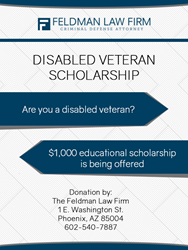 Phoenix, Arizona (PRWEB) May 01, 2017
Phoenix attorney Adam Feldman and his law firm, The Feldman Law Firm, have announced that it will be offering a $1,000 educational scholarship for disabled veterans. The scholarship will provide tuition assistance for the winner at the trade school, secondary school, junior college or college chosen by him or her. The scholarship is aimed at encouraging disabled veterans to continue their education after they complete their military service.
The transition from military to civilian life is difficult. When the veteran is disabled, that transition can become an even greater challenge. Adam Feldman, founder of The Feldman Law Firm, believes that the continuation of one's education can open new opportunities, and make that transition easier. The scholarship is being offered as an incentive to pursue those educational opportunities.
Veterans of any branch the United States Armed Forces who have a disability rating of at least 30% are eligible to apply. The successful applicant must utilize the funds within a year after the date of the announcement of the award; it is not necessary that applicants be enrolled in school at the time they apply. The application deadline is February 5, 2018, and the winner will be notified on or before March 5, 2018.
Anyone interested in applying for or learning more about the scholarship should visit the firm's website. It contains all relevant information about the scholarship and the application and selection process. It also contains the firm's privacy policy.
Additional questions may be submitted (via email, please) to:
The Feldman Law Firm
1 E. Washington St.
Phoenix, AZ 85004
602-540-7887
mike(at)afphoenixcriminalattorney(dot)com