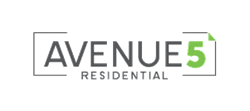 The majority of our new business over the past year has come from clients who have given us additional assets to manage based on our performance, and their confidence and trust motivates us to strive for additional growth and a higher level of performance
Seattle, WA (PRWEB) April 18, 2017
Avenue5 Residential, a multifamily property management services firm, has been named as one of the nation's largest multifamily management service providers on the National Multifamily Housing Council's (NMHC) 2017 NMHC 50 list. The company was included on the list for the first time in its history; Avenue5's unit count of 31,858, up from 18,621 units in the previous year, earned the company a ranking of 46 on the list.
"We are honored to have been included in the list, given that we formed our company just over three years ago," affirmed Walt Smith, chief executive officer of Avenue5. "The majority of our new business over the past year has come from clients who have given us additional assets to manage based on our performance, and their confidence and trust motivates us to strive for additional growth and a higher level of performance."
Avenue5 is a private third-party property management company providing solutions-based portfolio management services for the multifamily industry. The company began managing a 6,500-unit portfolio in 2014, and expanded its third-party management services for a broad range of multifamily owners in markets nationwide starting in November of 2015.
As of April 2017, Avenue5 manages more than 180 properties with over 35,000 units in 12 states, and continues to capitalize on its expertise in nationwide markets. The company is headquartered in Seattle, and has offices in Phoenix, Portland, and greater Washington, DC. The company also retains local experts in major markets including Spokane, Southern and Northern California, Reno, Las Vegas, Salt Lake City, Albuquerque, Denver, Colorado Springs, Austin, Dallas, and Baltimore. Avenue5 employs over 900 associates nationwide.
Smith noted that from the onset, Avenue5 has been committed to aligning with its clients' performance objectives, and to ensuring that leaders at all levels of the organization maintain hands-on involvement in assets. To that end, Avenue5 built a comprehensive service infrastructure before the company's first clients signed their management agreements. With this platform in place, Avenue5 was able to deliver on its promise to provide clients with a level of service that was comparable to that provided by larger, more established firms.
"The challenge that many property management companies face is managing growth while performing according to multifamily owner expectations," stated Smith. "We are grateful to our clients for giving us an opportunity to prove that we can accelerate success for them, and to the talented associates who have helped us to satisfy our clients and residents and expand our business."
NMHC partners with Kingsley Associates, a leading real estate research and consulting firm, for the NMHC 50's research and analysis. All apartment owners, managers, developers, contractors and syndicators are invited to answer a survey questionnaire that asks about their prior year's activities. Apartment owners, managers and syndicators are ranked based on their portfolio holdings (either owned or managed) as of January 1, 2017, while developers and general contractors are ranked based on the number of units started in 2016.
For more information on Avenue5, visit http://www.avenue5.com. For further details on the 2017 NMHC 50, visit http://www.nmhc.org/The-NMHC-50.
About Avenue5 Residential
Avenue5, a multifamily property management services firm, oversees more than 180 properties with over 35,000 units in 12 states. The company is headquartered in Seattle, and has offices in Phoenix, Portland, and greater Washington, DC. Avenue5 also retains local experts in major markets including Spokane, Southern and Northern California, Reno, Las Vegas, Salt Lake City, Albuquerque, Denver, Colorado Springs, Austin, Dallas, and Baltimore. The firm employs over 900 associates nationwide. http://www.avenue5.com