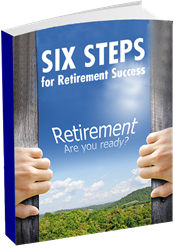 I got tired of reading negative articles about what NOT to do for a successful retirement, and decided to create a positive, step-by-step guide.
(PRWEB) May 03, 2017
Elliot Kallen, Principal at San Ramon's Prosperity Financial Group, was tired of reading so many negative articles about all of the actions that people needed to avoid to have a successful retirement. So, he decided to turn these negative statements into positive steps that anyone can use to plan a successful retirement. Below is a brief summary of his guide. To download your copy, please visit http://www.prosperityfg.com/individuals/retirement-guide
1. Start with the End in Mind - When we talk about retirement goals, we have to establish exactly what we would like to accomplish or do in our next venture in life. Write these down and hang them some place where you can look at them daily.
2. Cash Flow is King - Rather than trying to acquire a lump sum, think of your retirement in terms of the monthly income you will need to live comfortably, multiply that by your life expectancy, and work backwards from there. Remember to figure in your payments from Social Security.
3. Allow for Rising Costs – As the cost of living continues to rise, so must your calculations for retirement needs. Be sure to work with a financial advisor who will help you live well yet spend smartly.
4. Live Healthy – one of the biggest issues facing retirees can be the high cost of health care. Keep your body and mind healthy by eating right and exercising regularly. Investing time, discipline and money in your health are wise moves.
5. Live Smartly – Adjust your living arrangements according to your future, not your past. Thinking about where you want to live out your retirement is critical to your quality of life.
6. Watch Your Money - It is almost always better to diversify your portfolio, diversify your time horizon, and get professional help from an Independent Financial Advisor. Since they are required to act in your best interest, not theirs, you can be confident they will help you develop a plan that helps you sleep comfortably at night.
About Elliot H. Kallen - Financial Planner, Wealth Manager, Registered Principal
elliot(at)prosperityfg(dot)com
Elliot brings over 25 years of entrepreneurial business ownership experience to Prosperity's financial planning and advising practice. Elliot is a keynote speaker on motivation and marketing in the independent financial advisor industry, utilizing his previous experience in international distribution to teach other investment professionals nationwide. He holds Series 7-, 24-, 63-, 65- and 66-licensed to offer securities. Since 1993, Elliot has been licensed to offer insurance and annuities underwritten by a wide variety of the nation's insurers. In 2011, Elliot was named one of the Top 300 Advisors to the Defined Contribution 401(k) Industry.