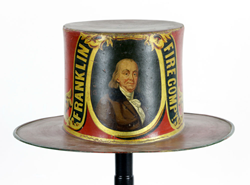 Beverly, Massachusetts (PRWEB) April 19, 2017
Kaminski Auctions April 30th sale starting at 10:00 am EST will present a very unique piece of American history with the recent discovery of a rare firemen's ceremonial parade hat dated 1764. Purchased at a yard sale at in Milton, Massachusetts the hat is made of pressed resin felt and has a hand painted picture of Benjamin Franklin on the front bordered by the words Franklin Fire Company in gold metallic paint and with the initials JF on the stovetop.
The hat is from the Franklin Fire Company of Germantown, Pennsylvania. Devastating fires wreaked havoc on colonial life and Germantown, once a part of Philadelphia in 1764 decided to create their own separate volunteer fire company to better protect themselves. This volunteer fire brigade was known as The Fellowship of the Upper Ward that later became the Franklin Fire company with Benjamin Franklin as their figure image. These special occasion hats or "parade hats" as they became known were worn by the fireman in parades, to county fairs, and in pumping competitions. Kaminski Auctions is pleased to offer this piece of American history and has estimated the hat to bring $8,000-$10,000.
Fine art in the auction features a Giovanni Paolo Panini (Italian, 1691-1765) landscape view of Roman ruins, oil on canvas estimated at $15,000-$25,000. There is also a 19th century Orientalist painting of an interior scene, initialed, an oil on canvas valued at $4,000-$6,000.
Sculpture in the auction features an Ernest Rancoulet (French, 1870-1915), neoclassical bronze on of cherubs, on a marble base, titled the Triumphator, and signed "Rancoulet." Measuring 44 ½ inches high and from a Palm Beach, Florida estate it is valued at $6,000-$8,000.
A large and varied selection of silver entries in the sale includes several important Persian items. A pair of Persian silver vases weighing 224 oz. and a two-piece Persian silver compote weighing approximately 182 oz. are both from a New England estate.
A 19th century silver English Georgian solid silver tray with handles, hall marked London measuring 31 1/2" inches high by 19 ½ inches wide and a Gorham Chantilly sterling silver candelabra from an NYC collection are both valued at $5,000-$7,000. Another signed Mauser fancy sterling centerpiece, weighing approximately 66 oz.is valued at $2,000-$3,000.
Continental porcelain in the auction includes a 19th century Russian monumental porcelain urn, hand decorated, with a bronze leaf border design on top measuring 29" high by 26 inches in diameter estimated at $5,000-$7,000 and a Royal Vienna charger signed Kaulbach, measuring 19 1/2" in diameter estimated at $3,000-$4,000.
Other continental items of interest include a pair of Bohemian cut glass ruby decanters and a late 19th century French Empire bronze urn on a special bronze fluted marble base, having scroll handles. Originally purchased from Sotheby's, New York, 25 years ago, this outstanding piece is estimated at $5,000-$7,000.
Clocks are numerous in the sale and include a carriage clock with two miniatures, a late 19th century two piece French globe clock of bronze and onyx and a bronze dore and marble clock, with double face pendulum.
Asian items of interest include a pair of antique Chinese rose medallion porcelain octagonal shaped garden seats, a Chinese Famille rose plaque featuring a dragon and the eight treasure Buddhist symbols.
Two items by the Chinese painter Xu Beihong in the sale include a framed painting of four birds and a signed Xu Beihong watercolor scroll of galloping horses, both valued at $1,500-$2,000.
Middle Eastern items featured include a large Syrian inlaid silver and brass, tray, a Syrian inlaid brass, silver and copper ewer and a pair of silver inlaid Syrian vases all from a New England estate. From the same estate comes several important Persian pieces from the Qajar period including an enamel liquor set and an enamel hookah top, as well as an Ottoman long gun estimated to bring $2,000-$3,000.
Preview for this exciting sale begins Wednesday – Saturday, April 26-29, 10:00 am-5:00 pm and day of sale beginning at 8:00 am at the Kaminski Auctions gallery at 117 Elliott Street (RT.62), Beverly, Massachusetts. For more information go to http://www.kaminskiauctions.com and sign up to bid with KaminskiLIVE.