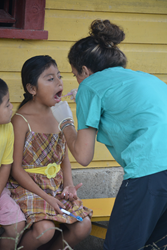 "I've enjoyed the most in-depth discussions I've ever had about how to treat patients, how to teach and what it practically means to offer help" - Ann Colbert, MD
Schraumberg, IL. (PRWEB) May 08, 2017
Hillside Health Care International has worked since 2000 to improve access to the health and quality of life for the people living in the Toledo District of Belize. The Toledo District is one of the most culturally diverse areas of Belize. It remains one of the country's most under-served regions with much of Its population living in precarious socio-economic conditions: 83% live in rural areas and 79% live in poverty. Almost 22% of its residents do not have access to potable water and 78% do not have access to a sewer system. The under-5 mortality rate is almost double the national rate. At 14 physicians for a population of 30,000, the district is one of the least served by health care professionals.
Hillside Clinic provides primary care at its outpatient clinic base and in rural villages, 5 days per week, year-round. The clinic also provides physical rehabilitation, pharmacy, home care services, and community outreach and health education in its public health program. We have seen substantial growth in recent years and had over 9,500 visits in 2016. Students and residents from the US, UK, Europe, and Australia fulfill elective requirements through Hillside's educational rotations and get hands-on experience working side-by-side with volunteer preceptors. Under the direction of the Medical Director and volunteer licensed physicians and clinicians, students are exposed to the practice of global health through multi-disciplinary, structured rotations. The Medical Director has overall responsibility for the provision of patient care, the educational programs, as well as the medicine program at Hillside Clinic. This position works in close collaboration with the Clinic Director and maintains a supportive, professional and collaborative leadership role with program directors, volunteers, staff, stateside operations, and HHCI Board of Directors.
Qualified candidates are Physicians with a current license to practice in their country of origin. Candidates must qualify for licensure in Belize. This is a 1 - 2 year volunteer position with a monthly stipend, 4 weeks of vacation per year, and housing/housing allowance. Families are welcome. HHCI will pay for processing costs and provide assistance in obtaining the Belizean license, visa, and work permits.
For more information visit our website or connect with us on Facebook and view our Belize location on Google Maps.